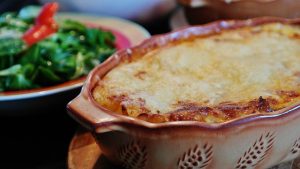 Traditional lasagna is a wonderful comfort food and, of course, there are dozens of different approaches to making a great lasagna. But if you're looking for a quick, easy, simple recipe for lasagna that won't break the bank or your back or require a full day of cooking and prep, this simple beef lasagna recipe is going to be your new go-to favorite! (
Above image by RitaE from Pixabay
) We love taking shortcuts like using oven-ready lasagna noodles (eliminating both the prep time and mess of regular lasagna noodles). We also use our favorite store-bought pasta sauce and easy ingredients you're likely to already have in your refrigerator and pantry. First we'll start by gathering all the ingredients needed we need for the
lasagna recipe:
Ingredients
Sauce: 1 pound ground beef 40 ounces (or more or less, to taste) marinara sauce 1/2 cup sliced black olives (optional)
Cream cheese layer: 1/2 cup cream cheese, softened 1/2 cup cottage cheese or ricotta cheese 1/4 cup sour cream 2 eggs Layers: 9 oven-ready lasagna noodles 1/2 cup sliced turkey pepperoni (optional) - using turkey creates less grease 4 cups mozzarella cheese 1/2 cup parmesan cheese
My family really enjoys having the black olives added to the sauce mixture along with the layers of pepperoni for an added flavor twist, but those are totally optional and generally not part of a traditional lasagna.
Directions:
We will also need a baking dish greased lightly with butter or cooking spray, and a skillet for cooking up our meat and sauce. Start by preheating the oven to 350 degrees F and heating a skillet on the stove over medium-high heat. Brown the ground beef in the skillet, breaking it up while cooking; season with salt, pepper, onion or garlic powder and Italian seasoning (to taste). Once meat has cooked through, stir in the marinara sauce and chopped olives. Set aside. In a medium bowl, combine the cream cheese, cottage or ricotta cheese, sour cream and eggs, stirring until thoroughly combined. Now just layer the ingredients in your baking dish as follows: 1/3 of meat sauce mixture, 1/2 of noodles, 1/2 of cream cheese mixture, 1/3 of mozzarella and 1/2 of pepperoni (if using). Repeat layers and top things off with the last of the meat sauce and mozzarella. Top with parmesan cheese and bake for 30-45 minutes; then let it stand for 10 minutes before serving.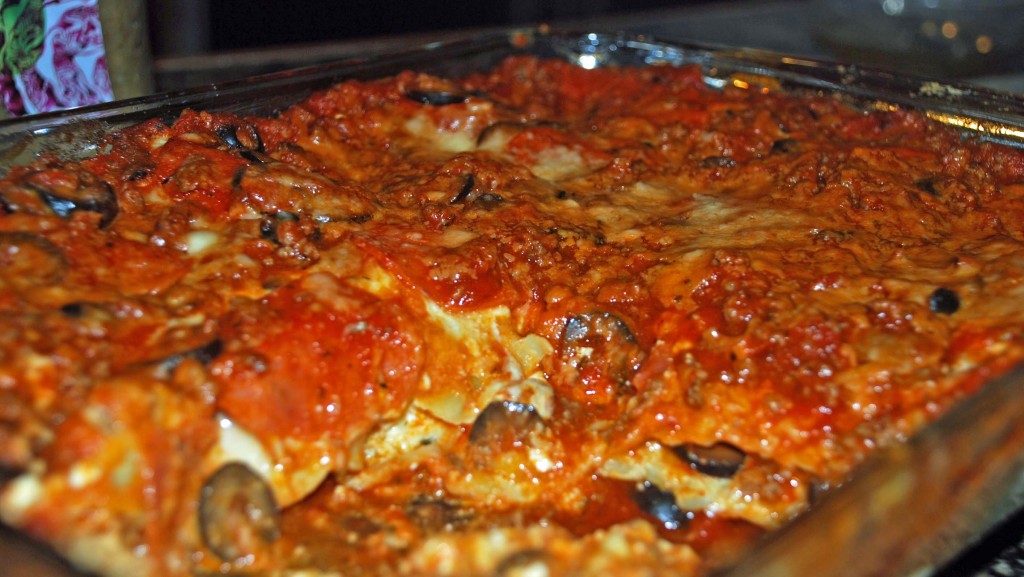 Serve with a favorite garden salad and some crusty Italian bread with dipping oil for a wonderful hearty meal.
Other lasagna recipes you might enjoy: Skillet Lasagna
Slow Cooker (Crock Pot) Lasagna
Roasted Chicken Lasagna with Spinach and Ricotta
Make your own noodles
or fresh sauce? Let us know in the comments below!