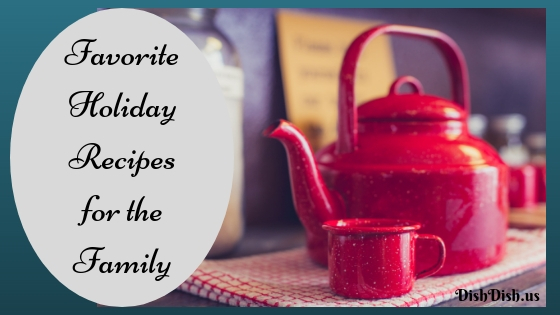 With the holidays upon us and everyone in a tither -- shopping, wrapping up work for the year, traveling, making time with family and friends, planning for visits -- it can be hard to know whether you're coming or going half the time.
(above background Photo by Dayne Topkin on Unsplash)
Take a deep breath and enjoy some of these favorite holiday meals with your loved ones, for Hanukkah, Christmas, the New Year, and more ... whether you love planning a complex meal or are simply looking for ideas to stay in the groove of family meals around the table amidst all the hustle and bustle (or need something easy to take on the road with you), we have some great recipe ideas just for you!
Pretty Presentation Recipes
[caption id="attachment_24336" align="aligncenter" width="300"]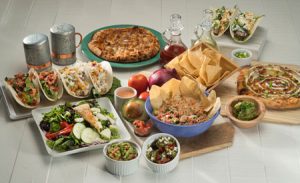 Photo by Randy Fath on Unsplash
[/caption]
Chicken and Sausage Spiedini This is an amazing colorful grilled dish of skewered chicken and sausage served on a platter with roasted peppers, onions, and skillet-fried potatoes drizzled with homemade Sicilian Herb Vinaigrette. If you have a little extra time and want to create a wonderful presentation dinner that's also full of intense flavor, this is the dish for your family (recruit some help with the chopping, dicing, mixing - and make it a family night event).
Roasted Salmon and Green Beans Colorful platter presentation with a layer of green beans and basil with shallots topped with roasted salmon and a sprinkle of basil leaves for garnish. It's a very simple dish to make, but also beautiful to present for guests or as the centerpiece of your family dinner night.
Quick, Easy Meals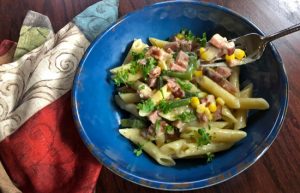 Creamy, Ham and Corn Chowder Pasta Here is a super easy dish with sauteed diced ham, frozen green beans and corn, pasta and seasonings in a creamy sauce. It's amazingly quick to put together, and serves up a hearty meal the whole family will enjoy!
Easy Chicken Pot Pie If you are longing for some comfort food -- like an old-fashioned chicken pot pie -- this one is a quick simple substitute using frozen mixed vegetables, canned soup, and chopped chicken topped with Bisquick batter or canned biscuits. Great use for leftover cooked chicken or chopped deli chicken.
Easy Travel or Potluck Recipes
Chicken and Sausage Jambalaya Rice Sauteed veggies, chicken and sausage, are baked in the oven with rice and seasonings for a one-pot meal that's easy for taking along to a potluck or large family gathering.
BBQ Baked Beans and Sausage Sliced sausage links with simple canned beans and fresh BBQ seasonings along with collard greens provides a healthy, delicious, easy take-along meal.
Crockpot Spicy Green Chile Pulled Pork Pork shoulder roast cooks all day in the crockpot with green chilies and seasonings; just pull apart and serve as tacos, sandwiches, or with veggies and rice for a full meal.
Does your family have holiday meal traditions? Are you looking for dinner or meal recipe ideas for particular circumstances? We'd love to hear from you in the comments below - ideas, suggestions, questions -- all are welcome.