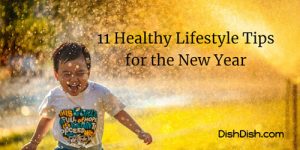 Making healthy choices for myself and my family can sometimes seem arduous or overwhelming (where to start and how to stay consistent). However, I find it's easier to move towards a healthy lifestyle by breaking it down into small steps I can take (whether personally or for my whole family), so the steps are manageable and things I will be able to maintain long-term (instead of jumping on each bandwagon of extreme dieting and lifestyle changes). How about you? If you too are looking for small changes in the right direction for a healthier you and happier family, these tips will definitely help you (and me) get started!
1. Drink Some Water
Drink 2 more glasses of water each day than you are drinking now (if you aren't drinking enough water) - try to add one to your morning routine and one to your afternoon or evening, at the least. Since I am not a fan of plain water, I often drink mine with a little lemon or orange essential oil or a slice of lemon, lime, or orange to add a little pizzazz. You can even make up a
whole pitcher of water
with fruit slices or berries and keep it on hand for yourself and the kids to enjoy throughout the day.
2. Be Grateful
Start your day by listing 3 things (or more) for which you are grateful. There is just something about
starting the day with a positive, uplifting perspective
and attitude, which can easily be jump-started by pausing to think about the good things in our life at the moment (all of us have at least 3, right?).
3. Get Moving
Walk for 10 minutes
. When we're not in the habit of exercising and starting a whole new program seems daunting, starting with 10 minutes a day can seem manageable (especially since you already have to walk around each day). If the weather is great, it's wonderful to step outdoors for a brief walk; and if not, set a timer and walk indoors (up and down the stairs, around the house, around the shopping center or office, etc.).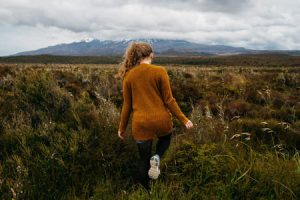 4. Laugh a Little
Choose to laugh and smile. Sometimes it's easy to get caught up in the responsibilities of the day and not even allow ourselves to laugh or smile at the funny moments or interesting situations around us. Look for an opportunity to do so - and I promise you'll feel better!
5. Cook at Home
Eat at least one more
home-cooked meal
for dinner each week. Eating in is healthier for us, and cooking and eating together as a family (or with friends) is good for our relationships and souls. If you don't like to cook usually - start with one simple meal (something like spaghetti or tacos or pizza with a store-bought crust).
Skillet Lasagna Recipe
- dish up a quick, easy dinner this week (serves 4).
1-1/3 Tbsp. olive oil 1 pound ground beef 1 clove garlic, minced 16 ounces marinara sauce 1-1/2 tsp. Italian seasoning 8 ounces bow tie pasta 1/3 cup sour cream 1/3 cup grated mozzarella chopped fresh basil, garnish, if desired
Heat olive oil in a skillet. Cook ground beef with garlic until beef is cooked through; drain off the grease. Stir in marinara sauce, Italian seasoning, salt and pepper. Turn heat down to low and simmer for 15 minutes; meanwhile, cook bow tie pasta in saucepan of salted water until cooked al dente (about 7 or 8 minutes). Stir sour cream into beef and sauce, then throw mozzarella and cooked pasta into sauce, stirring well. If desired, garnish with chopped fresh basil.
6. More Vegetables?
Add a couple of vegetable servings to your day. Pick a couple of vegetables you like the most, and add one of those to your lunch or dinner plate. Start small, and add on later.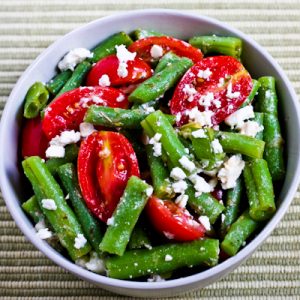 Fresh Green Beans with Grape Tomatoes and Feta Recipe Toss 1 pound of fresh green beans (cleaned and snapped) with a little bit of olive oil, salt and pepper. Place on foil-lined baking sheet in 450 degree F oven for 15-20 minutes. During last 10 minutes of roasting, add 1 pint of grape tomatoes to pan with green beans. When beans have reached desired tenderness, toss beans and tomatoes with 1 cup of feta cheese (marinated, if desired) and serve.
7. Use a Smaller Plate
Reduce the plate size for meals
. If you're struggling with overeating at meals, start with a smaller plate and stick with one helping. It's the little things that make a difference over time. This way you can still enjoy your favorite foods, but eating a little less of them will help you feel better.
8. Make Time for Friends
Enjoy some time with friends. It doesn't have to be complicated or expensive. Plan once or twice a month to enjoy dinner together or meet up for a hike or game night. Laughing together, catching up on how things are going for everyone, and encouraging each other through the ups and downs of life - it's worth it!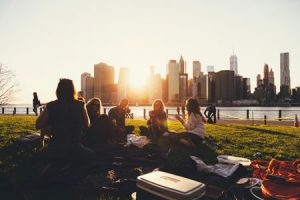 9. Meet a Neighbor
It seems like so many of us live in a neighborhood where everyone comes home from work, closes the garage door, and doesn't set foot outside again until they leave for work in the morning. Be a good neighbor and meet a new neighbor or two on your block. Take over a treat or a plant (it doesn't have to be anything expensive), introduce yourself, and get to know them. You may find a new best friend (or at least have someone you can call if you need to borrow some flour or sugar).
10. Do Something you Love
Do you have a
hobby or activity that you really enjoy
, but always gets lost in the shuffle because responsibilities take priority? Choose to intentionally allow yourself time to enjoy that activity a little bit each day or at least once a week (depending on the activity and time required). It's great to have something to feed our soul like that, experiencing the joy of doing something we love, and it provides an outlet for relieving stress, being creative, and giving our brains a break from "work".
11. Learn Something New
It's important for our well-being that we keep
learning new things
. It can be something small - peel and mince garlic, cook a spaghetti squash, etc. Or something bigger - learning to swim or speak a new language or an entirely new career. But starting small is fine - pick one thing new to learn each week or each month and enjoy a whole new world! Do you have other ideas or suggestions for healthy lifestyle? We would love to hear your thoughts, too, in the comments below. Thanks for stopping by!