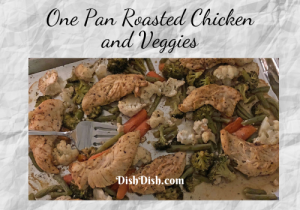 One pan dinners are one of my favorite types of dinners to prepare since they usually require little preparation ahead of time and are super easy to clean up afterwards. Additionally, one pan meals are perfect regardless of the size of your group, because you simply pick a different size pan to best fit the group size - from 2 to 10 - or multiple pans if you have a larger group. Pick favorite vegetables and a protein and you're off to the races with a
one-pan
dinner, ready to roast it up and serve a healthy meal for the whole family. Today we're making
One Pan Roasted Balsamic Chicken and Veggies
.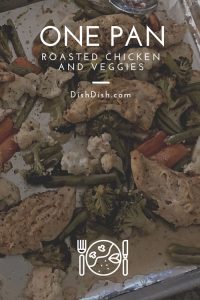 Before prepping veggies, let's
marinate some chicken
tenders or thighs in some balsamic vinaigrette OR olive oil with white wine and Italian or fajita seasoning; toss the tenders with marinade and place them in a plastic bag or a covered container at room temperature until ready to cook. Preheat oven to 400 degrees F. Other good protein sources for this dish include fish such as tilapia, mahi mahi, salmon and cod, or sausage links. For this particular one pan recipe, I chose broccoli, cauliflower and carrots for the vegetables. Prep these veggies by washing, cutting the florets from the base of the broccoli and cauliflower, and slicing or dicing the carrots into one-inch thick pieces. Toss with a little vegetable oil and salt and pepper.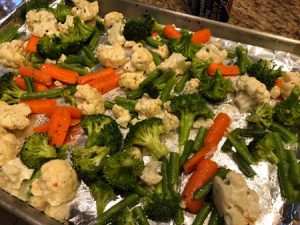 Alternatively, other fresh veggies that work well with this type of meal are sweet or bell peppers, onion, zucchini or yellow squash, potatoes or sweet potatoes, mushrooms, cherry or grape tomatoes, asparagus, green beans and brussels sprouts. Prepare a large or small
baking sheet pan
by lining it with aluminum foil and spraying lightly with some cooking oil. Spread the prepped vegetables in a single layer across the prepared pan. However, if using cherry or grape tomatoes, wait to add those to the pan until 10 minutes after the dish has started to cook. I like to also sprinkle the vegetables with a little bit of
Greek
, Italian, fajita or Mrs. Dash seasoning for added flavor. Layer the marinated chicken tenders - or another choice of protein - atop the vegetables.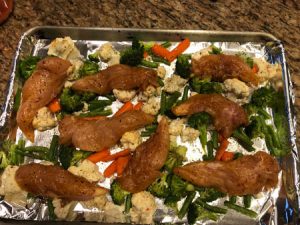 Place the pan in the preheated oven and roast for 10 minutes. If adding tomatoes, add those now and stir the vegetables around lightly before placing pan back in the oven for another 8-10 minutes (or a little longer, depending on the size of the chicken pieces) until meat and vegetables are cooked through and slightly browned. Serve with some crusty bread or dinner rolls, if desired. To make the food go farther for a larger group, consider serving with
seasoned rice
, couscous or quinoa.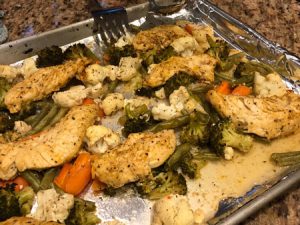 What are your favorite vegetables and proteins for this type of dinner? Do you have variations or recommendations for us for next time? Please leave us a comment with your ideas. Remember, you can keep all your favorite recipes in one place ready to find when you need them and share with family and friends in your digital cookbook here at Dish Dish.