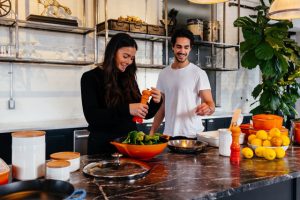 Whether you were an experienced cook or an absolute beginner before the Great Pause of 2020, most of us have spent more time than ever in the kitchen. And why not? It's a great place to be when the world is out of order.
You get to be creative with different recipes, craft delicious meals for yourself or loved ones, and spend time doing something that benefits your mental health. However, as with anything that you do too much of, you can risk getting burnt out. (Above photo by Jason Briscoe on Unsplash)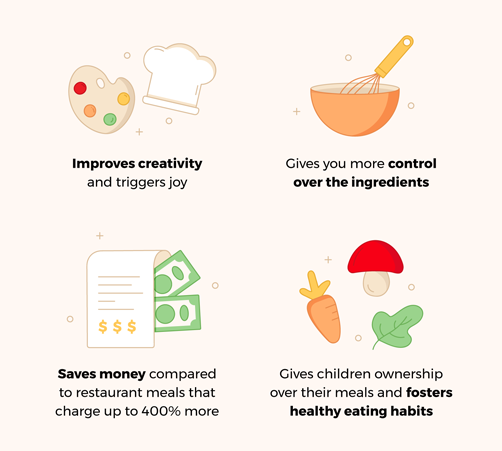 Regardless of how much or little you enjoy cooking, it's normal to experience periods when it feels more like a chore than a hobby. If you're finding yourself in a cooking rut, it can help to (literally) stir things up a bit! Check out some of these expert tips to find new
cooking inspiration
.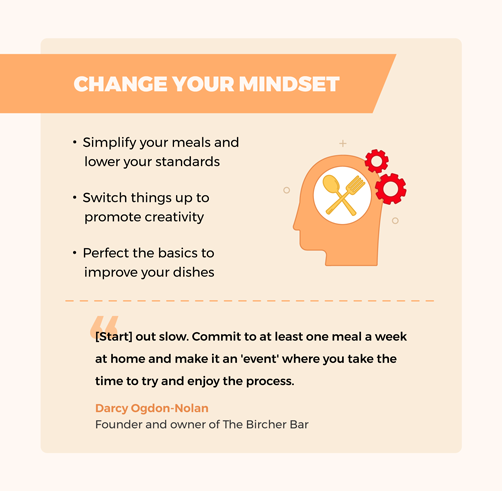 Meal prepping is one of the easiest ways to alleviate stress and workload during the week. Whether you're a busy athlete, a parent, or someone who struggles to find the motivation to cook after a long day, this technique may be able to save you some money and help you serve up healthy, delicious meals!
Grace Woinicz is the CEO of
The Brilliant Kitchen
and advises that "you can also prepare meals in bulk and freeze them for later use to save time and avoid cooking repeatedly."
If you don't mind cooking every day or multiple times a week, maybe you're just lacking inspiration for new recipes! There are so many different ways to find new recipes these days (like this delicious and easy
one pan meal
) but sometimes it can be nice to simply open a cookbook or go to the farmer's market for inspiration.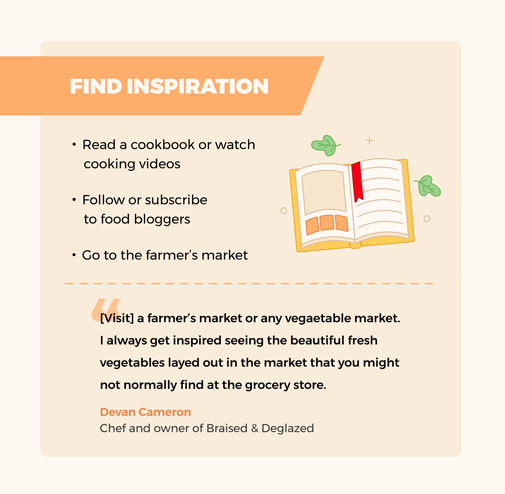 Your
kitchen
itself can be another great source of inspiration. Raid the pantry for ingredients that are about to expire and explore recipe options, dig through your cabinets to uncover forgotten kitchen gadgets, or splurge on a new tool that will motivate you to cook.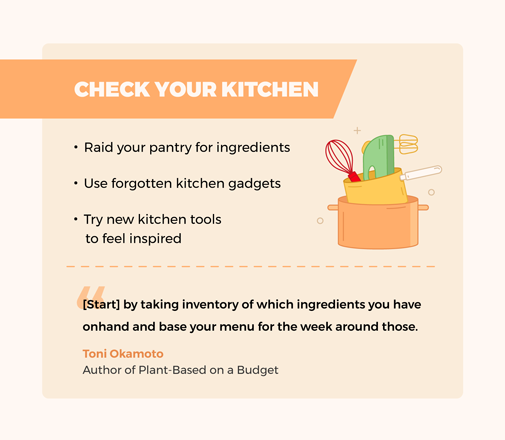 Finally, involve your friends and family! You can host a little cooking contest (virtually or in-person), exchange family recipes, or invite your besties over for a
pizza night
. Cooking with company makes this task a lot more fun.
If you have kids, you can involve them in meal planning by asking them to assist you in writing down your shopping list and delegating easier tasks to them like measuring ingredients or chopping vegetables. Lisa Richards is a nutritionist and author of
The Candida Diet
and knows that "involving children in the cooking process can help them feel ownership over the meal, which can lead to improved eating habits." It's a win-win for everyone!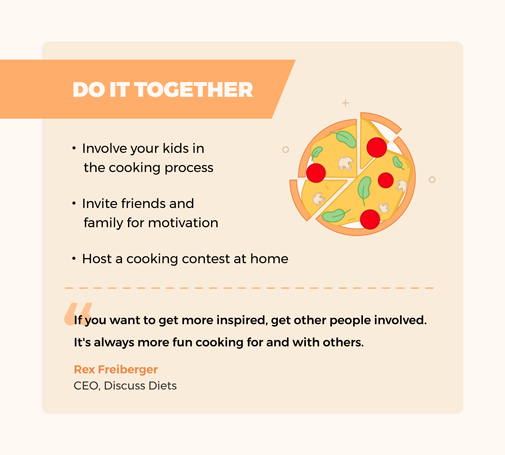 Happy Cooking!