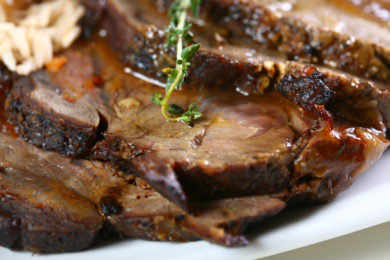 As an Englishman, Corrie knows there is nothing quite as delicious as a roast beef dinner on a Sunday afternoon. In this article, I am going to present to you four of his favorite roast beef-related recipes. Remember, however, roast beef can be bad for you if consumed all the time, and while it is tempting, it's a good idea to limit beef consumption and enjoy it in moderation. Be sure to eat lots of veggies with your roast beef, too! Here are four delicious roast beef recipes, perfect for a weekend supper.
Roast Beef and All the Trimmings
Roast beef with all the trimmings - how could I start anywhere else? This is not so much a recipe, as directions you can change according to your personal taste. The one thing you can't change is the beef, though! You need perfectly cooked
tender and juicy instant pot roast beef
, combined with a delicious gravy, and vegetables of your choice. In my house, we have carrots, turnips, swede or rutabaga, pigs in blankets (not vegetables!), gravy, and a delicious trifle afterward. Everyone has their own variation, but of course, I am bias to my own!
Beef Wellington
Now, Beef Wellington is a steak dish, though the steak is roasted. In Beef Wellington, the beef is covered in a pastry that is finely made and decorated.
Beef Wellington is one of the most famous dishes in Europe
and rightly so. To make it, you need to first prepare your cut of meat, smother it in
duxelles
and pate, then bake the pastry around it. It is quite a complex dish, requiring practice and careful consideration. There have been many failed Beef Wellington's made in my kitchen, I assure you, and there probably will be in yours, too! Do not give up.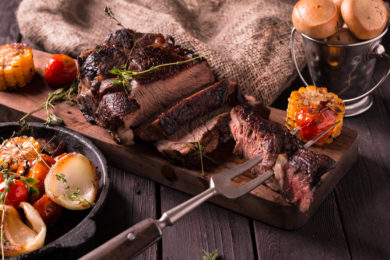 Beef Fillet with Horseradish
Horseradish is a classic pairing with beef, and rightly so, because it compliments it perfectly and adds a nice tang.
Beef fillet and horseradish
are absolutely delicious and easily made. Simply roast your beef as you ordinarily would, but use horseradish to season and smother it. You can make your own horseradish sauce, or you can buy it at the store. If you enjoy shortcuts like me, then you will opt for the latter, but you can always make it. Beef fillet and horseradish are best paired with a plate full of veggies!
Mustard Beef and Yorkshires
Mustard beef with Yorkshire pudding is another favorite of mine. Now, this dish is made more or less the same as the horseradish dish that we previously mentioned. The only addition to this one is
another personal favorite
, Yorkshire puddings. You simply cannot have beef without Yorkies; it is practically a sin. Now, with Yorkshire puddings, you can buy them whole, though that might not be possible outside of the United Kingdom. Otherwise, you can make them very simple. If you're into making Yorkies, you can make toad 'n' the hole, too! It's just a giant Yorkshire pudding stuffed with sausage. Beef is a versatile, delicious, and awesome meat to cook with in moderation. We hope that you have enjoyed our list of recipes, and remember, you can pair beef with almost anything and it will be delicious. Heck, you can even pair beef with beef!