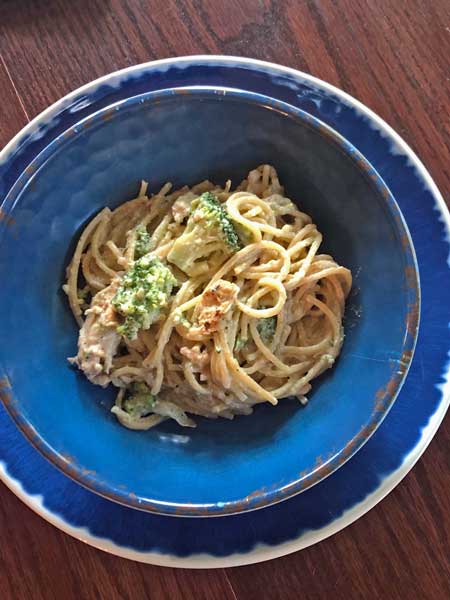 If you enjoy a creamy alfredo sauce dish, and would love to make it for yourself (rather than relying on creamed soups or canned sauces), you are going to be delighted with this simple, easy (I promise!) Chicken Alfredo recipe. I added broccoli to mine, because I like having the added vegetables and color, but that's totally optional.
Hint:
Using chicken tenderloins keeps the cooking time to a minimum since they cook up so quickly (especially after being flattened).
Assemble the ingredients you need:
• chicken tenderloins, • pasta (angel hair or spaghetti or your favorite), • cream or half-and-half (whichever you prefer), • butter and olive oil, • minced garlic, • Parmesan cheese, • fresh or frozen broccoli florets (if using), • seasonings (thyme, Italian or fajita seasoning, salt and pepper)
Start a pot of salted water boiling and cook pasta (and broccoli florets, if using) to al dente (about 10 minutes). Meanwhile, flatten the chicken tenderloins (cover with plastic wrap and pound with flat side of meat mallet until about 1/2 inch thick); season with thyme, salt, pepper, and either fajita or Italian seasoning. Melt a tablespoon each of butter and olive oil in a skillet over medium-high heat; add chicken pieces, cooking 4 to 5 minutes per side until browned and cooked through (reducing heat slightly as needed and covering with a lid to keep chicken moist).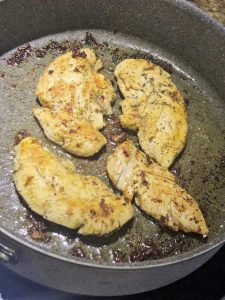 Meanwhile, in another saucepan, melt butter and saute minced garlic for 2 minutes. Stir in the cream or half-and-half and cook over medium heat, stirring consistently 'til starts to thicken (about 7 or 8 minutes). Stir in Parmesan cheese to melt and thicken.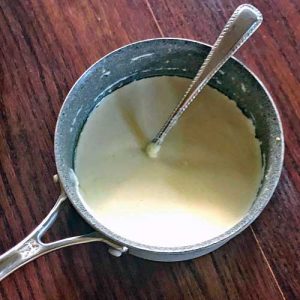 When chicken has cooked through, remove skillet from heat; place chicken pieces on cutting board and dice into bite-size pieces, then return pieces to skillet. Place skillet back over medium-low heat and stir in cooked, drained pasta and broccoli.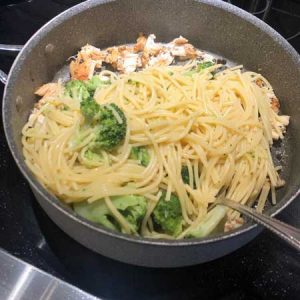 Now pour the Alfredo sauce over all. Stir, taste, and add any further seasoning desired.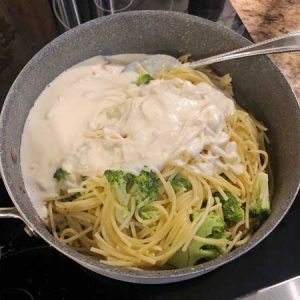 Garnish with chopped parsley and enjoy with a garden salad!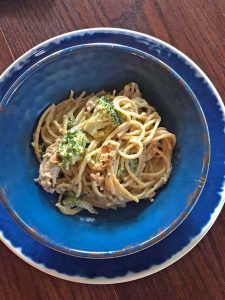 Now that you know how simple it can be to make your own Alfredo, you'll be enjoying it regularly and dishing it up for friends and family, too.
View the detailed, printable Chicken Alfredo Recipe here
(and save it to your
Dish Dish cookbook
for easy reference any time).