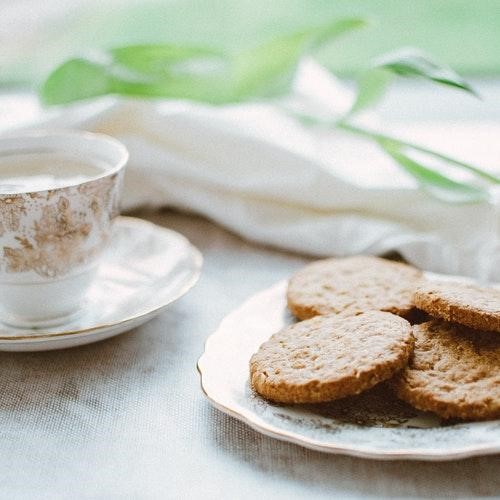 The best recipes for tea parties are small and delicious-looking savory treats. Whichever recipe you choose to go for, the most crucial thing to remember is to keep everything neat and bite-sized.
You can serve almost anything at tea parties; of course, the tea is a must-have. However, for authenticity, go for classic English recipes that are sure to impress your guests. Here are some delicious tea party recipes that you should consider trying.
Basic Scones
For the ingredients, you will need 2 cups of all-purpose flour, eight tablespoons of frozen unsalted butter, ⅓ cup of white sugar, one tablespoon of baking powder, ¼ tablespoon of baking soda, ½ teaspoon of salt, ½ cup of sour cream, one whole large egg and ½ cup of dried currants and raisins.
Preheat your oven to 400 degrees F, then combine the sugar, salt, flour, and baking soda in a bowl. Add the butter and cut into the mixture with forks or a pastry blender; mix. Using a different bowl, combine the sour cream and the egg until smooth, then add to the batter. Make the dough into a ball, then place it onto a flat surface sprinkled with flour. Flatten it into an 8-inch circle. Sprinkle a teaspoon of sugar onto the dough, then cut it into eight triangles. Bake until golden brown; this should take about 15 minutes. Leave the scones to cool for 5 minutes, then serve warm.
Cucumber Sandwiches
These refreshing bites have fresh herbs and cream cheese topped with freshly sliced cucumber, making them the perfect spread for your afternoon tea party. Cucumber sandwiches look great for your tea party and are light and easy to make.
The ingredients you will need are 8 ounces of softened cream cheese, three tablespoons of mayonnaise, two teaspoons of freshly chopped dill, one teaspoon of freshly chopped chives, ¼ teaspoon of garlic powder, salt, pepper, one long thinly sliced English cucumber and 1 loaf of sliced bread with its crust removed.
To start, mix together the mayonnaise and cream cheese. Add herbs, salt, pepper, and garlic powder, then stir until combined. Spread this mixture on the bread slices. Slice cucumber thinly and layer it over half the loaf. Top the slices of cucumber with herbs. Cut each sandwich into three pieces, then serve immediately.
Mini Quiche
You will need butter, eggs, and add-ins like bacon, spinach, ham and bacon. Begin by making the pie dough the night before. Next, make egg filling by beating together the eggs and seasoning with salt and pepper. Roll the pie dough and cut it into small circles; place the dough rounds in a lightly greased mini muffin pan. Fill each round with egg filling and top with the add-ins of your choice. Bake the mini quiche at 375 degrees F until golden brown, about 15 minutes.
Petit Fours
These perfectly bite-sized treats are great for tea parties, weddings and more. They are soft cakes with a chocolate coating with buttercream and raspberry jam layered in-between. With a stunning appearance, they can be prepared in different flavours.
You need unsalted butter, cream cheese, milk, vanilla extract, one egg, and light corn syrup. Start by creaming the sugar and butter until fluffy and light. Next, add the egg, creamed cheese, and vanilla extract. Mix the flour, salt, and baking powder separately with the wet mixture. Pour into a baking sheet for 30 minutes.
As the cake bakes, cream the butter and then add milk, vanilla, confectioner's sugar and salt to make buttercream filling. Cut the cooled cake into two rectangles. Cut the two rectangles with a serrated knife down the middle, then spread the buttercream on one half and raspberry jam on the other. Sandwich the layers, then freeze for 30 minutes. Cut the cake into 1.5" cubes. Coat the cubes with white chocolate fondant.
Ham & Cheese Tea Sandwiches
You will need thin white bread, sliced ham, Swiss cheese, mustard, mayonnaise, and microgreen leaves. Start by cutting circles out of the cheese, ham and bread. The next step is to assemble them in the following order from the top down: bread - mayo - cheese - mustard - ham - mayo - bread - mayo - cheese - mustard - ham - mayo - bread. Skewer the sandwich with a cocktail fork.
Serve with your favorite hot tea. To make the best hot chai latte, get your chai powder from quality sources and make chai with the type of milk you prefer.
Tea Party Perfection
When planning tea party snacks, remember to keep them bite-sized and delectable. Have an open mind and be creative, experimenting with the flavors of your choosing.