Yellow Curry Mussels
Tell a Friend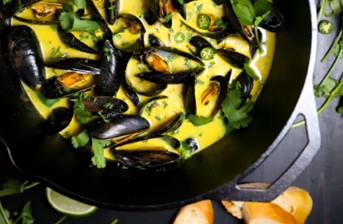 Brief Description

Yellow curry mussels; wine match: Riesling. Serve with warmed baguette.

Main Ingredient

mussels

Recipe Type: Public

Source:

Tags:

Notes:
Ingredients:
1 teaspoons - dark brown sugar
1/4 teaspoons - kosher salt
2 pounds - small mussels (about 60) scrubbed and debearded
3/4 cups - small basil leaves divided
3 tablespoons - fresh lime juice
- lime wedges 1 per serving
1 tablespoons - olive oil
2 cups - chopped onion
1 tablespoons - finely chopped peeled fresh ginger
2 cloves - garlic minced
1 - jalapeno pepper chopped and seeds removed
2 teaspoons - yellow curry paste
1 cups - coconut milk
1/2 cups - dry white wine
Directions:
Note 1: Keep your mussels on ice until ready to use. Ensure there are air holes in the bag you are using for storage.
Note 2: Place the mussels in a colander in the sink and run water over them, using your hands or a clean scrubbing brush to rub off any debris like seaweed, sand, barnacles, or mud spots that could be on the shell. If you find any mussels with open shells, lightly tap that mussel against the side of the sink. If it does not close, discard it.
Note 3: After cooking, check for any mussels that refused to open, fish them out, and discard. Unopened mussels were dead from the start and are unsafe to eat. All mussels need to be gently pried open to eat, but if the shell is so tightly closed you need a crowbar, it means that one is no good.
Heat a large Dutch oven over medium-high heat. Add oil to pan; swirl to coat.
Add onion, ginger, garlic, and jalapeño; sauté 3 minutes, stirring frequently. Stir in curry paste; cook 30 seconds, stirring constantly.
Add coconut milk, wine, sugar, and salt; bring to a boil. Cook 2 minutes.
Stir in mussels; cover and cook 5-6 minutes or until mussels open. Discard any unopened and broken shells.
Stir in 1/2 cup basil and lime juice.
Divide mussels mixture evenly among serving bowls and spoon the coconut mixture evenly over mussels. Sprinkle each serving with 1 tablespoon remaining basil; serve with lime wedges.
---