Wholemeal shortcrust fish pie
Tell a Friend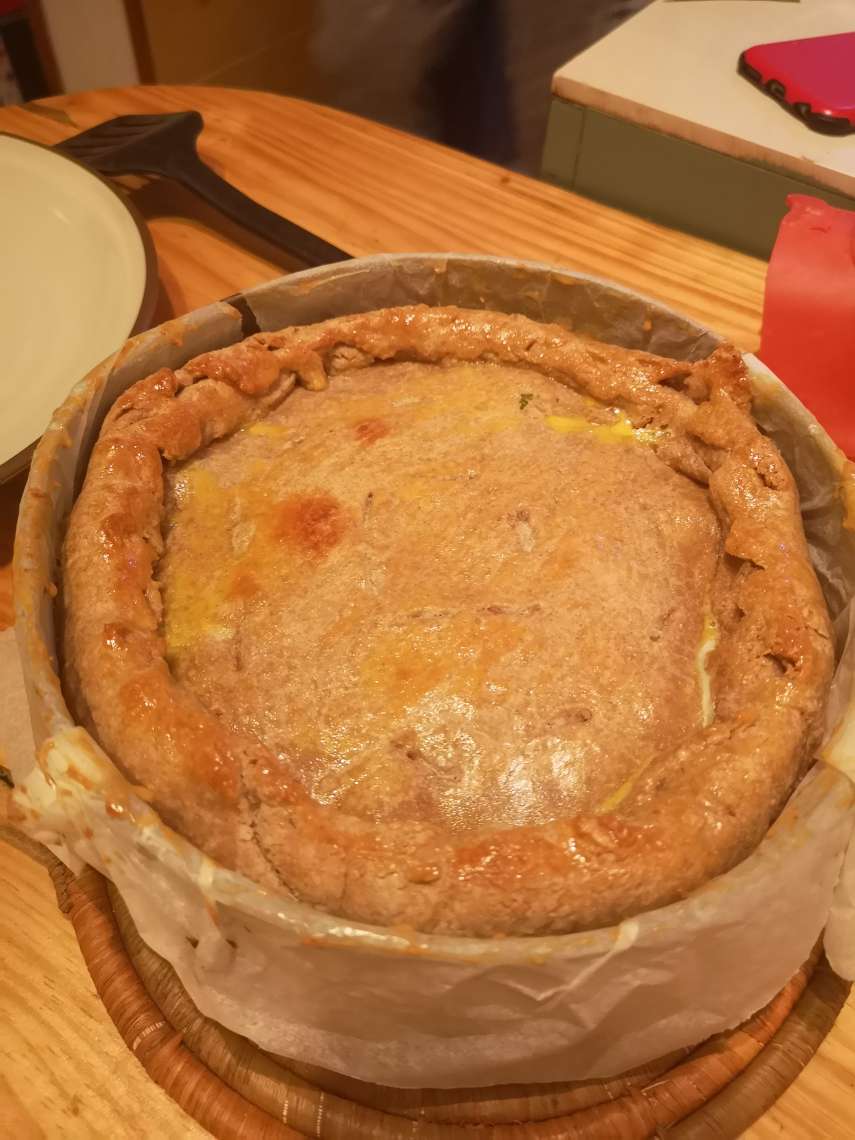 Main Ingredient

Recipe Type: Public

Tags:

Notes:

Posted By: LEILA
Directions:
Ingredients
For the pastry
500g wholemeal flour
250g unsalted butter
1/2 tablespoon salt
milk as needed
For the filling
500ml/1 pint milk
250g/9oz smoked haddock or cabot
200g/7oz cod loin or other white fish
100g/3½oz raw king prawns
1 onion
1 bay leaf
3 cloves
2 leeks, washed and chopped
2 carrots chopped
1 chopped cooked potatoes
50g/2oz butter, plus 25g/1oz for dotting on top of the pie
1 tbsp olive oil
3 tbsp plain flour
50g/2oz peas
1 tbsp finely chopped parsley
1 unwaxed lemon, finely grated zest only
instructions
pastry:
cut cold butter into cubes
combine with flour rubbing between thumbs and finger until a fine crumbly mixture add salt do not overmix or melt butter
add just enough milk until becomes a solid ball.
flour and wrap ball in clingfilm put in fridge to chill for 1b hr
Filling
Heat the milk in a large pan, then add the smoked haddock and cod. Cut the onion in half, make an incision in one of the halves and insert the bay leaf. Push the cloves into the same onion half and place this into the pan with the milk and fish. Bring the milk to the boil, then reduce the heat and simmer gently for 6–7 minutes.
Meanwhile, finely chop the remaining onion half and the leeks. Heat the butter with the olive oil in a small frying pan and gently fry the onion and leeks for 4–5 minutes, until softened but not browned. add salt
Remove the fish from the pan, and set aside to cool slightly. Keep the milk in the pan.
Add the flour to the leeks and stir well. Fry for 1 minute, stirring frequently. Gradually spoon in the milk from poaching the fish, and stir it in well each time. Add all the milk in this way, and heat gently until the sauce has thickened. Taste the sauce for seasoning, and add more salt or pepper if necessary.
Break the fish into chunks, and Add the raw prawns and peas to the mixture.
once sauce thick enough stop cooking and let it cool down
roll out pastry on tin with baking paper, Spoon the cooled fish mixture into the bottom of the dish. Sprinkle the parsley and lemon zest over the top then add layer of pastry on top
-roll over the edges
-make air holes
brush pie with egg yolk
bake at 190° for 30 minutes
---