West African Peanut Soup
Tell a Friend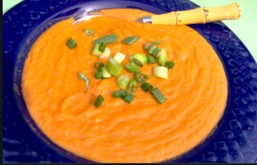 Brief Description

Peanut soup with sweet potatoes.

Main Ingredient

sweet potatoes

Recipe Type: Public

Source:

Tags:

Notes:
Ingredients:
1 tablespoons - vegetable oil
1 - small onion chopped
1 - small celery rib chopped
1/2 teaspoons - sea salt plus more to taste
1 tablespoons - peeled, grated fresh ginger root
1 1/2 teaspoons - Tabasco or other hot sauce plus more to taste
12 ounces - sweet potatoes peeled, cut into 1/2-inch pieces
1 1/2 cups - water
1 1/2 cups - tomato juice preferably low-sodium
1/2 cups - creamy peanut butter
2 tablespoons - chopped cilantro leaves plus a few leaves for garnish
1 - scallion, white and green parts cut crosswise into thin slices, for garnish
Directions:
Pour the oil into a medium soup pot over medium heat. Add the onion, celery and salt; cook, stirring frequently, until softened, 10 to 15 minutes.
Stir in the ginger and Tabasco. Add the sweet potatoes and water. Increase the heat to medium-high and bring to a boil, then reduce the heat to medium or medium-low so the liquid is barely bubbling around the edges. Cover and cook until the vegetables are very tender, 15 to 20 minutes.
Add the tomato juice and peanut butter. Use an immersion (stick) blender to create a creamy, pureed soup. If you use a blender instead, work in batches and remove the center knob in the lid, placing a paper towel over the opening to avoid splash-ups.
Pour back into the soup pot. Stir in the chopped cilantro and warm through. Taste, and add salt and/or hot sauce as needed.
Divide among bowls and top with the scallions and cilantro leaves. Serve hot.
Nutrition per serving, based on 4: 320 calories, 10 g protein, 29 g carbohydrates, 20 g fat, 4 g saturated fat, 0 mg cholesterol, 390 mg sodium, 6 g dietary fiber, 10 g sugar
Makes: 4 1/2 to 5 cups, or 3 to 4 servings
---