Victorian Strawberry Chocolate Cake
Tell a Friend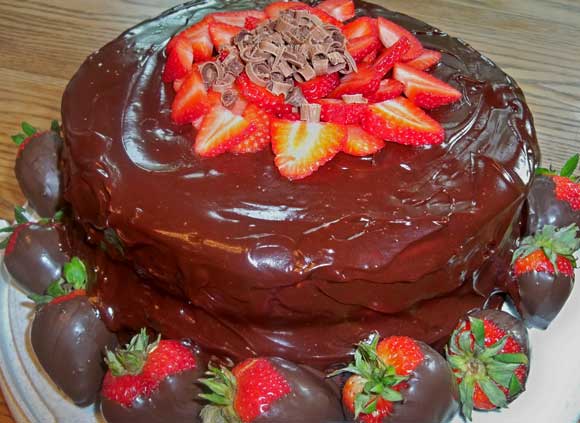 Brief Description

Alternating light and dark layers along with fresh strawberry garnishes make this cake a hit for any occasion.

Main Ingredient

cocoa

Recipe Type: Public

Notes:

Daniel's birthday

Posted By: mcarr
Ingredients:
2 cups - boiling water
1 cups - baking cocoa
1 cups - butter softened
2 1/2 cups - sugar
4 whole - eggs
1 1/2 teaspoons - vanilla extract
2 3/4 cups - all-purpose flour
2 teaspoons - baking powder
2 teaspoons - baking soda
1 quarts - fresh strawberries
1 cups - semisweet chocolate chips melted
2/3 cups - shortening
4 cups - powdered sugar
1/3 cups - water
1 1/2 cups - semisweet chocolate chips
1/3 cups - heavy whipping cream
Directions:
In a small bowl, stir water into cocoa until blended; set aside. In a large mixing bowl, cream butter and sugar until light and fluffy. Add eggs, one at a time, beating well after each addition. Beat in vanilla. Combine the flour, baking powder and baking soda; add to the creamed mixture alternately with cocoa mixture, beating well after each addition.
Pour into two greased and floured 9-inch baking pans (round or square or heart). Bake at 350 degrees for 35-40 minutes or until a toothpick inserted near the center comes out clean. Cool for 10 minutes before removing from pans to wire racks to cool completely.
Slice 10 strawberries; set aside. Dip remaining whole strawberries into melted chocolate chips (or dipping chocolate), about three-fourths to the top. Place on a waxed paper-lined baking sheet; refrigerate until set.
For frosting, cream shortening and powdered sugar in large mixing bowl until light and fluffy; gradually add water, beating until smooth. Spread between layers and over top and sides of cake. Set aside to dry; about 30 minutes.
For icing, heat chocolate chips and cream in a saucepan over medium heat (or in a microwave-safe bowl in the microwave) until chocolate is melted, stirring occasionally. Spread over frosted cake until smooth. Refrigerate until set.
Before serving, arrange two rows of sliced strawberries on top of cake; fill center with chocolate shavings and dust with confectioners' sugar if desired. Place dipped strawberries around base.
Store in the refrigerator.
---