Vegetable Bolognese
Tell a Friend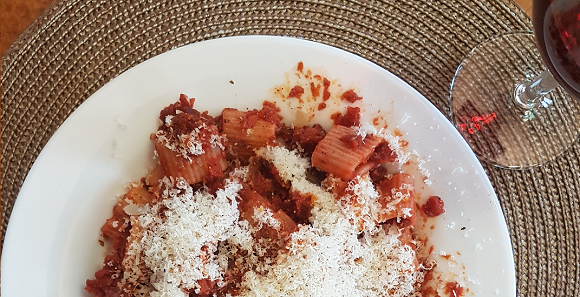 Brief Description

A hearty " bolognese" for serving with pasta or as a vegetable ragout side dish. I learned this recipe in a healthy eating class here in Como. Out of the several taught that day, this is the one I keep coming back to. It is delicious and satisfying. And a one pan meal! It is gluten free on its own as a side or served with gluten free pasta. The recipe in Italian can be found on sarahtibs.com

Main Ingredient

Carrot

Recipe Type: Public

Tags:

Family Kid-Friendly Vegetarian Gluten-Free Dairy-Free Make-Ahead Low-Fat Heart-Healthy Large groups Low-Cholesterol Vegan

Notes:

NOTES: You will need a frying pan with high sides & lid or a large saucepan with lid (dutch oven works well). A food processor. Chopping board. Ingredient amounts are according to your taste. I make this so often, I make it by sight/taste. My husband loves mushroom, but hates beets so I put more mushroom for him...close to 300 grams and 1 small beet. He doesn't even know that healthy little beet is in there! (evil laugh) You can add Umeboshi, which is good for your gut, and imparts a "meaty" flavor. I never seem to have that on hand. I always use some smoked paprika, though, for the same "umami" or meaty flavor. Garlic: if you take a whole garlic bulb and slice off the very top...wrap it in foil and roast in 200/220c oven for 1 hour...you get a nice carmelized garlic paste inside the individual garlic clove skins. You can use for several recipes throughout the week, just squeeze the paste in. Non roasted garlic is absolutely fine, too. Celery leaves are just healthy. You do not need to add any. Chopped or torn bits of about 4 or 5 leaves are undetectable and offer health benefits.

Posted By: ISC
Ingredients:
1 tablespoons - EVOO Extra virgin olive oil to coat pan and to drizzle
1 - Onion Medium sized
1 cloves - Roasted garlic Regular minced garlic is good too
6 - Carrots
1 - Beet Raw prefered, but precooked is fine.
250 grams - Champignon Mushrooms
3/4 tubes - Tomato Concentrate
1/2 cans - Chopped tomatoes in juice Or passata di pomodoro
1/8 cups - Tamari soy sauce Or regular soy sauce. Or salt.
4 - Celery Leaves Optional
1 sprigs - Rosemary Fresh, large sprig
2 - Sage leaves Fresh
- Clove top only
- Nutmeg Just a sprinkle
- Black pepper To taste
- Smoked paprika Optional
- Umeboshi Optional
1/2 - Box of Pasta Gluten Free, Whole grain. As you prefer!
Directions:
INSTRUCTIONS: Basically, for this recipe, you food process the vegetables one by one and add to your pan. Then simmer it with wet ingredients & herbs.
Clean vegetables and chop enough to go into your food processor. Pour a spoonful of EVOO into your pan and heat on med flame. Chop up the onions and garlic first with your food processor. To the size you would want in a ragu. Add to pan. Put the carrots into the food processor. Chop. Add to pan. Put the beet in next if it is a raw one. And add to pan. Lastly, the mushrooms. They will chop up mushy, that is fine. Add to pan. If you are using ready, already cooked beets then put them in the processor, chop, but hold the cooked beet aside.
Stir and let all the vegatables cook for about 4 minutes to soften. Then add a few Tblsp of tomato concentrate and 1/2 the can of chopped tomatoes with juice. You can add more tomatoes and their juice, since the amount of liquid you like will be personal. If I do not have tomato concentrate on hand I might put the whole can of chopped tomatoes. The original recipe calls for only the tomato concentrate, I find that too dry. It becomes more of a side dish of vegetable ragout. I usually put this on pasta, or in lasagna, so I like it more saucey. After the tomatoes, add the soy sauce. A sprig of rosemary, some sage leaves and the celery leaves. (Celery leaves are optional). If you did not use raw beet then add in the cooked, chopped beet. Pinch the round top of your clove into the pan by crushing it btwn your fingers and sprinkling it in like salt. Discard the stick part. Microplane in a sprinkling of nutmeg all around. If using, this is the time for adding in the umeboshi and smoked paprika for their "meaty" flavor. Put a lid on and let simmer on low heat until cooked. About 20 minutes. Season with pepper.
Serving...I find that once I scoop some "bolognese" onto my pasta, it needs a little drizzle of evoo and lots of fluffy parmesan microplaned on top. You probably won't need any salt at all given the soy sauce and grated parmesan. To keep it Vegan, just skip the parm!
---