Tiropita
Tell a Friend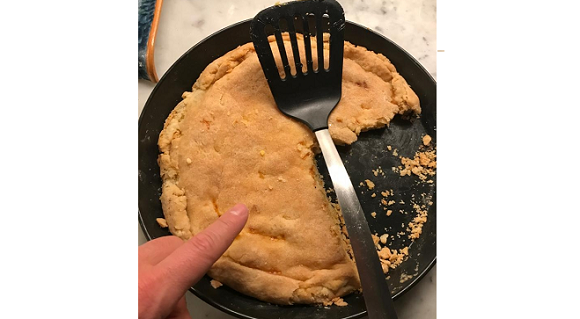 Brief Description

Tiropita is a Greek pastry often made with layers of buttered phyllo and filled with a cheese-egg mixture. This version is made with a simple, homemade dough.

Main Ingredient

Feta

Recipe Type: Public

Source:

Tags:

Notes:

Posted By: ISC
Ingredients:
1 cups - Sunflower oil For crust
1 cups - Yogurt For crust
1 1/2 teaspoons - Salt For crust
2 cups - Flour For crust : add flour until no longer sticky
250 grams - Crumbled feta cheese For stuffing
2 whole - Eggs For stuffing
3 tablespoons - Yogurt For stuffing: three large spoonfuls
2 tablespoons - Parmigiano For stuffing: two spoonfuls
Directions:
- For the crust: Add one cup of sunflower oil, one cup of yogurt, salt and add flour until it forms a dough and is not sticky anymore. Depending on your yogurt consistency, it could be any amount of flour. Once your dough is formed, divide into two lumps (about a big handful of each).
- For the stuffing: 250g of crumbled feta, 2 eggs, 3 large spoonfuls of yogurt and 2 spoonfuls of parmigiano. If you fancy, add also dill to the stuffing.
- Open the dough and flatten with your hands, each piece should give you a size approx as a dinner plate. Place in pan. Add the stuffing mix on top, then top with the other dough. Place in oven preheated to 250 degrees for 10 mins then 200 degrees for 20-30 mins and let turn golden/light brown!
---