Tangy Greens with Bacon and Breadcrumbs
Tell a Friend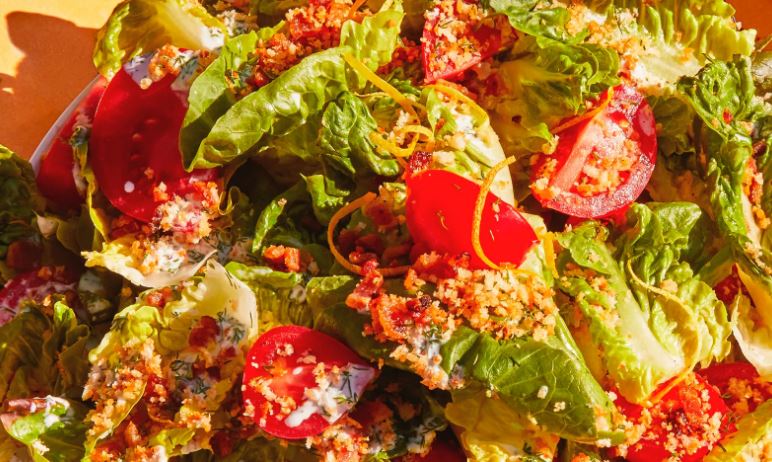 Brief Description

BLT salad with layers of lettuce and tomatoes with well-seasoned panko and cool dressing.

Main Ingredient

lettuce

Recipe Type: Public

Tags:
Ingredients:
1/2 cups - buttermilk
1/3 cups - mayonnaise
2 strips - lemon zest, very thinly sliced
2 tablespoons - fresh lemon juice
1 cloves - small garlic clove, finely grated
1/2 cups - chopped dill, divided
- kosher salt and freshly ground black pepper
6 slices - bacon, finely chopped
1 cups - panko
3 heads - Little Gem lettuce or 1 large head of romaine lettuce, leaves separated
1 pounds - tomatoes, halved or quartered if large
Directions:
Dressing:
Vigorously whisk together the buttermilk, mayonnaise, lemon juice, garlic, and ¼ cup dill in a medium bowl until combined; season with salt and pepper. Set aside for serving.
Cook bacon pieces in a medium skillet over medium heat, stirring often as it begins to crisp, until browned and mostly crisp, about 6 to 8 minutes. Keep bacon in pan and spoon out all but 2 tablespoons of the fat into a small bowl.
Add panko to the same skillet and return to medium heat. Cook, stirring often, until panko is golden and crisp, about 2 minutes -- don't walk away because panko will toast slowly at first but can easily burn, especially around the edges of the skillet. Add up to 1 tablespoon of the reserved fat in bowl back to pan if breadcrumbs look dry.
Remove from heat, add remaining ¼ cup dill, and toss to combine. Season breadcrumb mixture with salt and pepper and transfer to a medium bowl.
Arrange one third of lettuce on a platter and top with one third of tomatoes; season with salt. Generously drizzle some reserved dressing over and scatter some breadcrumb mixture on top. Repeat layers 2 more times.
Top the salad with an extra shower of breadcrumb mixture plus the lemon zest and serve.
Hyperlinks:
https://www.bonappetit.com/recipe/tangy-greens-with-bacon-y-breadcrumbs
---