Sweet Potato Quesadillas
Tell a Friend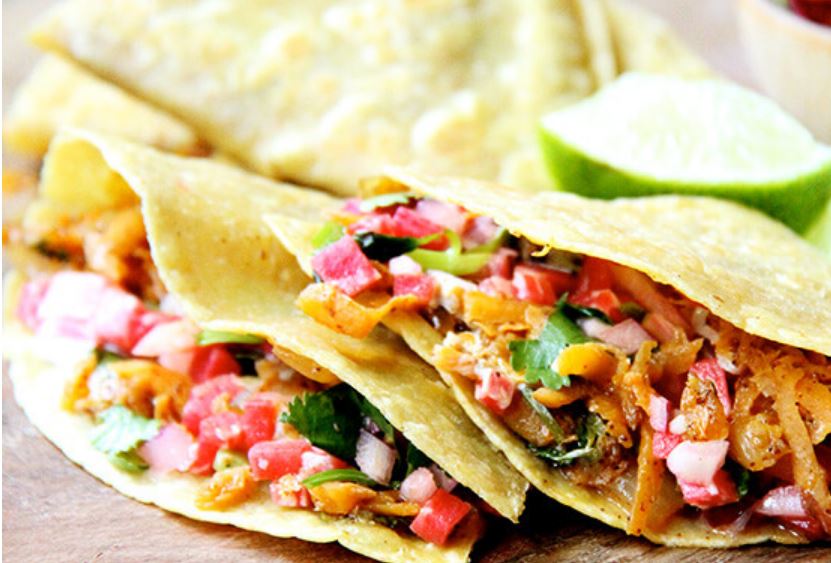 Brief Description

Sweet potato quesadillas.

Main Ingredient

sweet potatoes

Recipe Type: Public

Tags:

Notes:

Feel free to add some chopped cilantro to the sweet potatoes as they finish cooking. If you have watermelon radishes, you can turn them into salsa by finely dicing and mixing them with finely diced onion, jalapeno, some lime, cilantro, salt and a splash of olive oil and vinegar.
Ingredients:
1 1/2 cups - finely chopped onion
2 cloves - garlic, minced
3 tablespoons - to 4 Tbsp. olive, grapeseed OR canola oil
4 cups - grated, peeled sweet potatoes
1 teaspoons - chili powder
1 teaspoons - to 2 tsp. ground cumin
- generous pinch of cayenne
- salt and ground black pepper, to taste
- one cup or more of finely minced cilantro, optional
- fresh lime juice, to taste
1 cups - grated sharp cheddar cheese or Monterey Jack cheese
8 - soft corn tortillas (8 to 10 inch size)
- sour cream, for serving
Directions:
In a large pan set over medium heat, sauté the onions and garlic in 3 tablespoons of the oil until the onions are appearing almost clear. Add the grated sweet potatoes, chili powder, cumin and cayenne and cook, covered, to prevent sticking, for 8-10 minutes stirring every few minutes. When the sweet potatoes are tender, add salt and pepper to taste and remove the filling from heat.
Add cilantro, if using. Squeeze 1/2 a lime over the sweet potatoes, mix, taste, and adjust with more lime and salt to taste.
To bake the quesadillas: Spread one-eighth of the filling and 2 tablespoons of the cheese on each tortilla. Bake in a 350ºF oven until the cheese is fully melted and quesadillas are hot, approximately 15 minutes.
To cook the quesadillas on the stovetop: Heat 2 teaspoons of oil in a skillet over medium heat. Fill tortillas lightly (for this dish, less is more) with sweet potato filling and some cheese. Fold them in half. Cook two at a time until golden, about 2 to 3 minutes. Flip; cook until other side is golden, about 2 more minutes.
Repeat with remaining tortillas, cheese and filling, adding more oil to the pan as needed.
Serve with fresh lime, sour cream and salsa if you have it.
Hyperlinks:
https://alexandracooks.com/2015/12/30/sweet-potato-quesadillas/
---