Stubb's Slow Cooked Rosemary-Garlic Pot Roast
Tell a Friend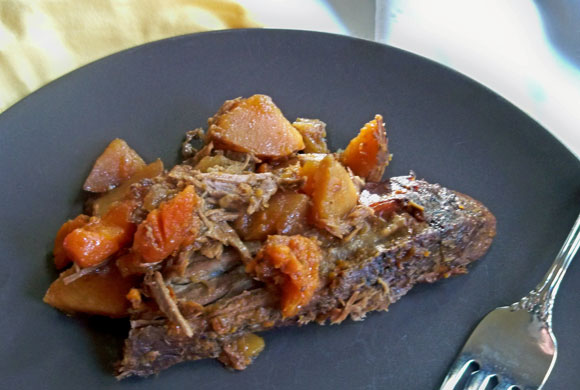 Brief Description

The seasoning on this is terrific!

Main Ingredient

Boneless beef chuck roast

Category: Beef

Recipe Type: Public

Notes:

To smash garlic, use a garlic press. I didn't have any of the rosemary-ginger rub, and used an envelope of onion soup mix instead. You could also substitute some beef broth or stock for the beef marinade. Turned out great!
Ingredients:
2 1/2 pounds - mixed pot roast vegetables including potatoes
3 - garlic cloves minced or smashed
3 tablespoons - Stubb's rosemary-ginger rub
3 pounds - chuck roast, boneless
1/2 cups - Stubb's Beef Marinade
1/4 cups - soy sauce
2 sprigs - fresh rosemary optional
1/4 cups - water
Directions:
1. Set the vegetables in the bottom of a medium to large slow cooker, w/ potatoes on the top layer. Smash the garlic w/ the flat of a knife against a cutting board and discard the peel. Sprinkle the smashed garlic over the vegetables.
2. Coat the roast w/ the rub. Set the roast on top of the vegetables and pour any excess rub over the roast.
3. Pour the marinade and soy sauce over the roast. Enclose the rosemary sprigs (if using) in cheesecloth and drop into the pot. Pour the water around the edges of the pot (not over the roast).
4. Cover and turn the heat to low. Cook 7 - 8 hrs., or until the vegetables and meat are tender. Remove the rosemary sprigs and degrease if needed. Serve w/ a bit of meat, vegetables and broth (and bread for sopping up the juices).
---