Stir-Fried Noodles With Chicken
Tell a Friend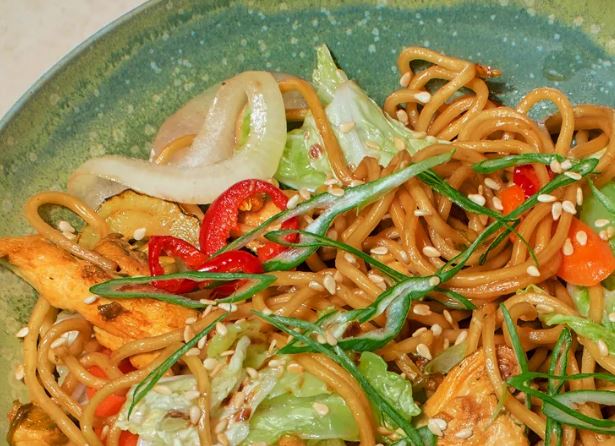 Brief Description

Stir Fry

Main Ingredient

Chicken

Recipe Type: Public

Tags:
Ingredients:
2 packages - 5 oz packages fresh wavy ramen noodles (preferably Sun Noodle brand) or three 3-oz. packages dried w
2 teaspoons - plus 3 Tbsp grapeseed oil or vegetable oil, divided
6 - scallions
1/4 - medium head of green cabbage (about 11oz) very coarsely chopped into 1" pieces
1 - medium onion, sliced 1/4" thick
2 - medium carrots, peeled, sliced on a diagonal 1/4" thick
2 - celery stalks, sliced on a diagonal 1/4" thick
1 - serrano or Fresno chile, finely chopped
1 pieces - 2" piece ginger, peeled, finely chopped
3 -
1 -
3 - garlic cloves, finely chopped
1 pounds - skinless, boneless chicken thighs, sliced into 1/2" strips
3 tablespoons - soy sauce
2 tablespoons - unseasoned rice vinegar
1 tablespoons - Shaoxing wine (Chinese rice wine) or medium-dry sherry
1 tablespoons - toasted sesame oil
- toasted sesame seeds, for serving
Directions:
Step 1
Cook noodles in a large pot of lightly salted boiling water according to package directions, using a pair of tongs or chopsticks to encourage noodles to loosen up and separate. Drain noodles in a colander and rinse under cold running water to remove any excess starch. Transfer noodles to a large bowl and toss with 2 tsp. grapeseed oil to prevent them from sticking together. Set noodles aside.
Step 2
Separate dark green tops from white and pale green parts of scallions; thinly slice tops and set aside. Thinly slice white and pale green parts of scallions and set aside separately. Heat 1 Tbsp. grapeseed oil in a large skillet (at least 12" if you?ve got one) over medium-high. Cook cabbage, tossing occasionally, until charred in spots but still quite crisp, about 4 minutes. Season lightly with salt and transfer to a large bowl.
Step 3
Wipe out skillet, pour in 1 Tbsp. grapeseed oil, and return to medium-high heat. Cook onion, carrots, and celery, tossing occasionally, until crisp-tender, about 3 minutes; season lightly with salt. Transfer vegetables to bowl with cabbage. Wipe out skillet again and let cool slightly.
Step 4
Heat remaining 1 Tbsp. grapeseed oil in skillet (still over medium-high), then cook chile, ginger, garlic, and reserved white and pale green parts of scallions, stirring often, until fragrant, about 30 seconds. Add chicken; stir to coat, then spread out in an even layer. Cook, undisturbed, 1 minute. Season with salt, then stir and continue to cook, stirring occasionally, until chicken is cooked through, about 3 minutes.
Step 5
Add cabbage mixture, soy sauce, vinegar, wine, sesame oil, and reserved noodles to skillet and cook, tossing often, until noodles and vegetables are heated through and noodles are coated in sauce, about 30 seconds. Taste and season with more salt if needed.
Step 6
Divide stir-fry among shallow bowls or plates and top with sesame seeds and reserved scallion greens.
Hyperlinks:
https://www.bonappetit.com/recipe/stir-fried-noodles-with-chicken
---