Spinach and Artichoke Al Forno
Tell a Friend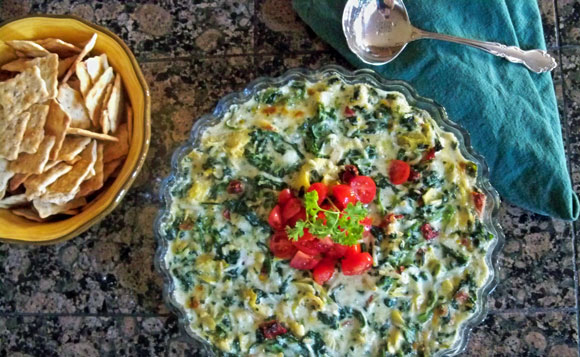 Ingredients:
2 cups - canned artichokes drained and rinsed
2 cups - sauteed spinach drained and chopped into 1/4-inch pieces
3 tablespoons - olive oil
1/4 cups - sun-dried tomatoes rough chopped
2 cups - asiago cheese shredded
1/2 cups - scallions sliced
1 cups - heavy cream
1 tablespoons - parmesan cheese grated
- salt and pepper to taste
Directions:
Preheat the oven to 350 degrees. Place artichokes, tomatoes, spinach and scallions in a large mixing bowl with Asiago cheese, cream and olive oil. Mix with a spatula until all ingredients are combined. Add salt and pepper to taste.
Spread the filling evenly into a lightly greased oven-proof dish and sprinkle with Parmesan. Place dish in the center of the oven and bake for 20 minutes.
Serve with your choice of bread, crackers, vegetables or chips.
---