Southwestern Shells with Chicken and Corn
Tell a Friend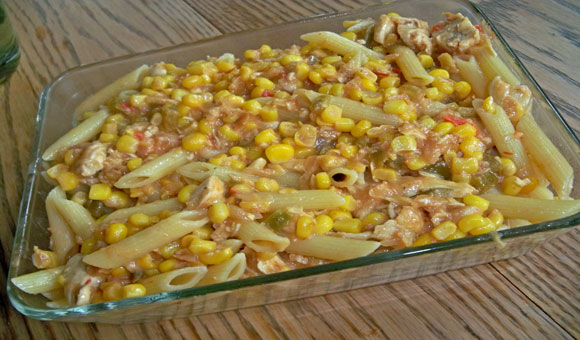 Brief Description

Hearty dish is packed with tender chunks of chicken, corn, and the bite of salsa and chilies.

Main Ingredient

pasta, chicken, corn

Recipe Type: Public

Tags:

Notes:

I also often substitute penne or rigatoni pasta in this recipe, as you can see from the picture attached.

Posted By: mcarr
Ingredients:
12 - medium pasta shells
1/2 pounds - skinless, boneless chicken breasts cut into 1/2-inch pieces
2 tablespoons - flour
2 teaspoons - vegetable oil
12 - evaporated skim milk
2 cups - shredded Monterrey Jack cheese
1 1/2 cups - frozen corn kernels
2/3 cups - scallions chopped
1/2 cups - thick and chunky salsa
4 - canned chopped mild green chilies
1/4 teaspoons - salt
1/4 teaspoons - freshly ground black pepper
Directions:
Preheat the oven to 375. Spray a 2.5-quart baking dish with nonstick cooking spray. Heat a large pot of water to boiling, and cook the pasta shells until just tender. Drain well, rinse under cold water, and drain again. Transfer to a large bowl.
Meanwhile, in a medium bowl, combine the chicken and flour and toss to coat. In a large nonstick skillet, heat the oil until hot but not smoking over medium-high heat. Add the chicken and cook, stirring frequently, until browned on all sides, about 3 minutes.
Reduce the heat to medium-low, very gradually add the evaporated milk, and cook, stirring constantly, until the milk begins to simmer, about 3 minutes. Continue to cook, stirring occasionally, until the mixture is slightly reduced, about 1 minute longer. Remove from the heat and stir in 1 cup of the cheese, the corn, scallions, salsa, green chilies with their liquid, salt, and pepper. Add the chicken mixture to the pasta shells and toss well to combine.
Spoon the pasta mixture into the prepared baking dish, sprinkle the remaining 1 cup cheese on top, and bake for 20-25 minutes, or until the top is golden brown. Spoon the pasta mixture onto 6 plates and serve.
---