Southwest Chicken Salad with Guacamole-Ranch Dressing
Tell a Friend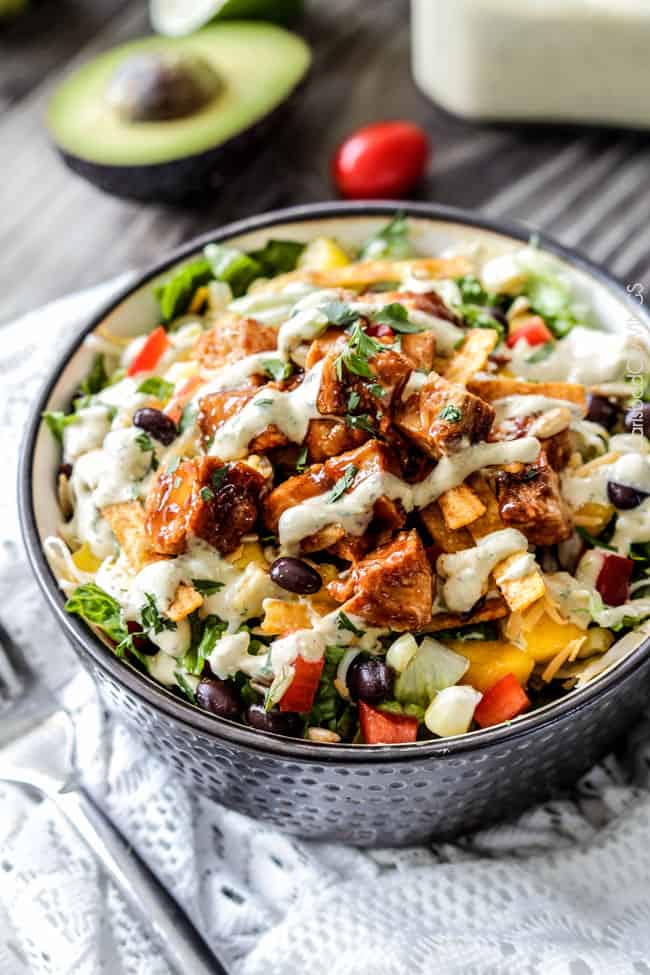 Brief Description

For the Dressing: 1 cup Ranch Dressing 2 ounces Guacamole (I use single size pre-made guacamole) 1 teaspoon ground cumin For the Salsa: ½ cup diced red bell pepper ½ cup diced red onion 1 can corn, drained and rinsed (I use organic) 1 can black beans, drained and rinsed (I use organic) 1 avocado, cubed 2 tablespoons fresh cilantro, chopped (I omit this) 3 green onions, sliced 2 tablespoons olive oil (I use extra virgin olive oil) 2 teaspoons ground cumin 1 teaspoon chili powder 1 teaspoon sea salt (I omit this) For the Salad: I bag of leaf lettuce, rinsed (I use European Blend) but any leaf lettuce will do 1 bag of Spring Mix Blend (I use Baby Garden Blend) but any Spring Mix will do 2 cups shredded cooked chicken (I use supermarket cooked rotisserie chicken)

Main Ingredient

chicken

Recipe Type: Public

Source:

Notes:
Directions:
* Mix ranch dressing, guacamole and ground cumin together in a small bowl. Cover and refrigerate for about an hour so flavors mingle together.
* Place beans, corn, bell pepper, onions, cumin, chili powder, sea salt, and cilantro in a large bowl, stir. Add olive oil and stir to combine. Add cubed avocado and gently stir.
* Place lettuce in a large bowl or platter. Sprinkle chicken over lettuce. Sprinkle salsa over the chicken. Serve with Guacamole Ranch Dressing.
---