Soft Garlic And Thyme Vinaigrette
Tell a Friend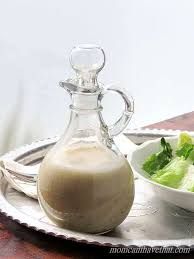 Brief Description

"This recipe repeats a step 8 times before reaching the finish line. Read on" Serves 8 to 12 | Prep Time 5 minutes | Cook Time 20 minutes WHY I LOVE THIS RECIPE Simple, subtle and very versatile. Nice homemade vinaigrette to keep on hand

Main Ingredient

6 each large whole garlic cloves (peeled) ¼ cup champagne vinegar ½ cup extra virgin olive oil 3 sprigs thyme pedals salt and pepper to taste

Recipe Type: Public

Tags:

Notes:
Directions:
Put garlic in a small pot and fill with cold water than bring to a boil. After it starts to boil strain the garlic and pour out the hot water. Add garlic back to the pot and cover with cold water again and bring to a boil. Repeat this set at least 8 times. Sounds like forever, but not much water is needed for each refill.
Strain and place garlic in blender with vinegar, olive oil and salt. Blend into a vinaigrette consistency than add thyme and pulse a few times.
Store in an air tight container, refrigerated until use
---