Smashroom Sandwich
Tell a Friend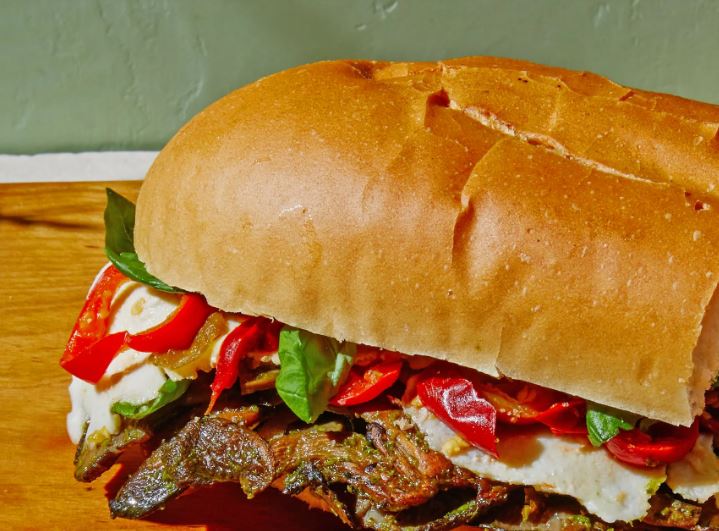 Brief Description

Sandwich made with mushrooms, peppers, mozzarella and pesto.

Main Ingredient

mushrooms

Recipe Type: Public

Tags:
Ingredients:
2 tablespoons - store-bought or homemade pesto
1 pounds - large mushrooms (such as portobello, oyster or maitake)
2 tablespoons - plus 2 teaspoons vegetable oil
- kosher salt
1 - 10-12" demi-baguette, ciabatta or Italian roll, halved lengthwise and toasted
1 cloves - garlic, halved crosswise
4 ounces - fresh mozzarella, thinly sliced
1/4 cups - sliced, drained pickled cherry peppers
1/4 cups - basil leaves
Directions:
Step 1
Place pesto in a large bowl.
If using portobello mushrooms, remove stems and gills. Tear mushrooms into 3– to 4-inch pieces.
Heat 1 tablespoon of oil in a medium heavy skillet over medium-high heat. Arrange half of the mushrooms in a single layer in skillet and cook until they start to sizzle, then wrap the bottom of a second heavy skillet that is small enough to nestle into the first one with aluminum foil and use it to press down on mushrooms evenly (apply pressure with your body weight to really smash the mushrooms into the hot skillet). Cook, pressing down and rotating pan as needed for even browning, until mushrooms shrink significantly and are deeply browned underneath, about 3 minutes.
Remove top skillet; season mushrooms with salt. Turn mushrooms over and add 1 teaspoon of oil to the pan; re-cover with foil-lined skillet. Cook, pressing, until second sides of mushrooms are well-browned, about 3 minutes.
Transfer mushrooms to bowl with pesto. Repeat process with remaining mushrooms and 1 tablespoon plus 1 teaspoon oil. Toss mushrooms in pesto to coat.
Step 2
Rub the cut sides of baguette with garlic; discard garlic.
Arrange mushrooms on bottom half of bread, then layer mozzarella on top. Season lightly with salt and top with cherry peppers and basil. Close and cut in half to make 2 sandwiches.
Do ahead: Sandwiches can be made 4 hours ahead. Store tightly wrapped at room temperature.
Hyperlinks:
https://www.bonappetit.com/recipe/smashroom-sandwich
---