Slow Cooker Pork Carnitas with Pickled Red Onions
Tell a Friend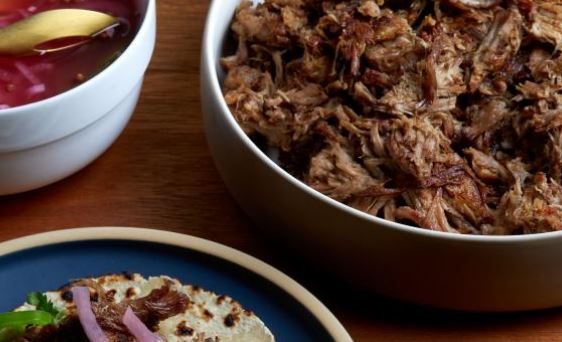 Brief Description

Slow cooker pork carnitas with pickled red onions.

Main Ingredient

pork shoulder

Category: Pork

Source:

Tags:

Notes:
Ingredients:
2 cups - low-sodium chicken broth
- juice of 2 oranges
- juice of 2 limjes
1 tablespoons - ground cumin
1 teaspoons - chili powder
1 teaspoons - dried oregano
1/4 teaspoons - crushed red pepper flakes
- small pinch of ground cloves
- kosher salt
1 - medium white onion quartered
6 cloves - garlic peeled
2 - bay leaves
3 pounds - boneless pork shoulder fat trimmed, cut into 2-inch pieces
- freshly ground black pepper
1/4 cups - lard
- soft corn tortillas for serving
- cilantro leaves for serving
- sliced jalapenos for serving
- pickled red onions below, for serving
2 - small red onions thinly sliced
3/4 cups - white vinegar
1/4 cups - orange juice
3 tablespoons - lime juice
2 - bay leaves
1 tablespoons - granulated sugar
1 teaspoons - coriander seeds
- kosher salt
Directions:
Add the chicken broth, orange juice, lime juice, cumin, chili powder, oregano, red pepper flakes, cloves, and 2 teaspoons kosher salt to a large slow cooker and whisk to combine.
Add the onion, garlic and bay leaves and stir to combine. Add the pork and toss to coat. Cover and cook on high until the meat is tender, about 5 hours.
Transfer the pork to a large bowl with a slotted spoon and discard the bay leaves, onion, and garlic. Shred the pork into bite-size pieces with 2 forks, leaving some larger chunks, and season with salt and pepper.
Heat 2 tablespoons of the lard in large nonstick skillet over medium-high heat. Add half the shredded pork and press down into an even layer with a spatula. Cook, pressing occasionally with a spatula, until crisped and browned, 2 to 3 minutes. Transfer to a serving platter and cover with foil to keep warm. Repeat with the remaining 2 tablespoons lard and shredded pork.
Serve with tortillas, cilantro, jalapenos and pickled red onions.
Pickled Red Onions
Put the sliced onions in a medium heatproof, nonreactive bowl. Put the vinegar, orange juice, lime juice, bay leaves, sugar, coriander and 1 tablespoon kosher salt in a small saucepan and whisk to combine. Bring to a boil over high heat and cook, whisking occasionally, until the sugar dissolves, about 1 minute. Pour the mixture over the red onions and set aside until cooled to room temperature. Serve at room temperature or cover and refrigerate up to 4 days.
---