Sicilian Grill Roasted Chicken
Tell a Friend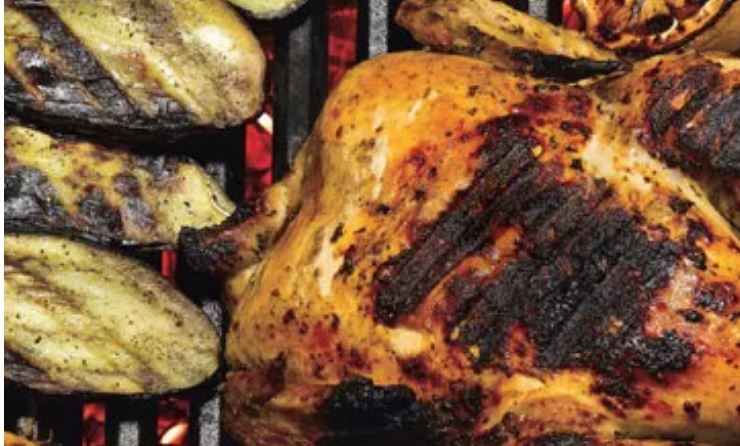 Brief Description

Sicilian roasted chicken on the grill with lemons, artichokes and eggplant.

Main Ingredient

chicken

Recipe Type: Public

Tags:
Ingredients:
Mediterranean Drizzle
1 cloves - large garlic, pressed
2 teaspoons - coarse kosher salt
2 tablespoons - fresh lemon juice
6 tablespoons - extra-virgin olive oil
Chicken
1/2 cups - fresh lemon juice
1/2 cups - chopped fresh Italian parsley
1/4 cups - olive oil
6 cloves - garlic, minced
1 teaspoons - salt
1/2 teaspoons - ground black pepper
2 whole - 3-1/2 to 4 pound free-ranch chickens
- grilled lemons, artichokes and eggplant, for serving with
Directions:
MEDITERRANEAN DRIZZLE
Mash together garlic and 2 teaspoons coarse kosher salt in mortar with pestle or in small bowl with back of spoon until paste forms. Whisk in lemon juice, then oil.
DO AHEAD Can be made 1 day ahead. Cover and chill. Bring to room temperature before using.
CHICKEN
Whisk together lemon juice, parsley, olive oil, garlic, 1 teaspoon salt, and 1/2 teaspoon pepper in a medium bowl. Place 1 whole chicken in each of 2 resealable plastic bags. Divide the lemon marinade between bags. Seal bags, carefully releasing the excess air. Turn to coat chicken with marinade. Chill chicken at least 1 hour and up to 1 day, turning bag occasionally.
Prepare barbecue, heating it to medium heat. If using 2-burner gas grill, light 1 burner. If using 3-burner gas grill, do not light center burner. If using charcoal grill, light briquettes in chimney and pour onto one side of lower grill rack -- you'll need to light more briquettes in the chimney to replenish during grilling.
Remove chickens from marinade. Sprinkle chickens inside and out with salt and pepper. Tie legs together. Place chickens breast side down, over the unlit side of grill. Cover and grill chickens 45 minutes, adjusting gas levels if using gas grill or adjusting vents and adding more charcoal as needed if using charcoal grill to maintain barbecue temperature between 350°F and 400°F.
Turn chickens breast side up. Cover and grill until instant-read thermometer inserted into thickest part of thigh registers 165°F, continuing to maintain barbecue temperature between 350°F and 400°F, about 35 minutes longer. Transfer chickens to a work surface; let rest 10 minutes.
Carve chickens and transfer to platter. Arrange Grilled Lemons, Baby Artichokes, and Eggplant around chickens. Spoon some of the Mediterranean drizzle over chicken and vegetables. Garnish with grilled lemons for squeezing over top.
Hyperlinks:
https://www.bonappetit.com/recipe/sicilian-grill-roasted-chicken
---