Shrimp and Crispy Rice With Citrus Recipe | Bon Appétit
Tell a Friend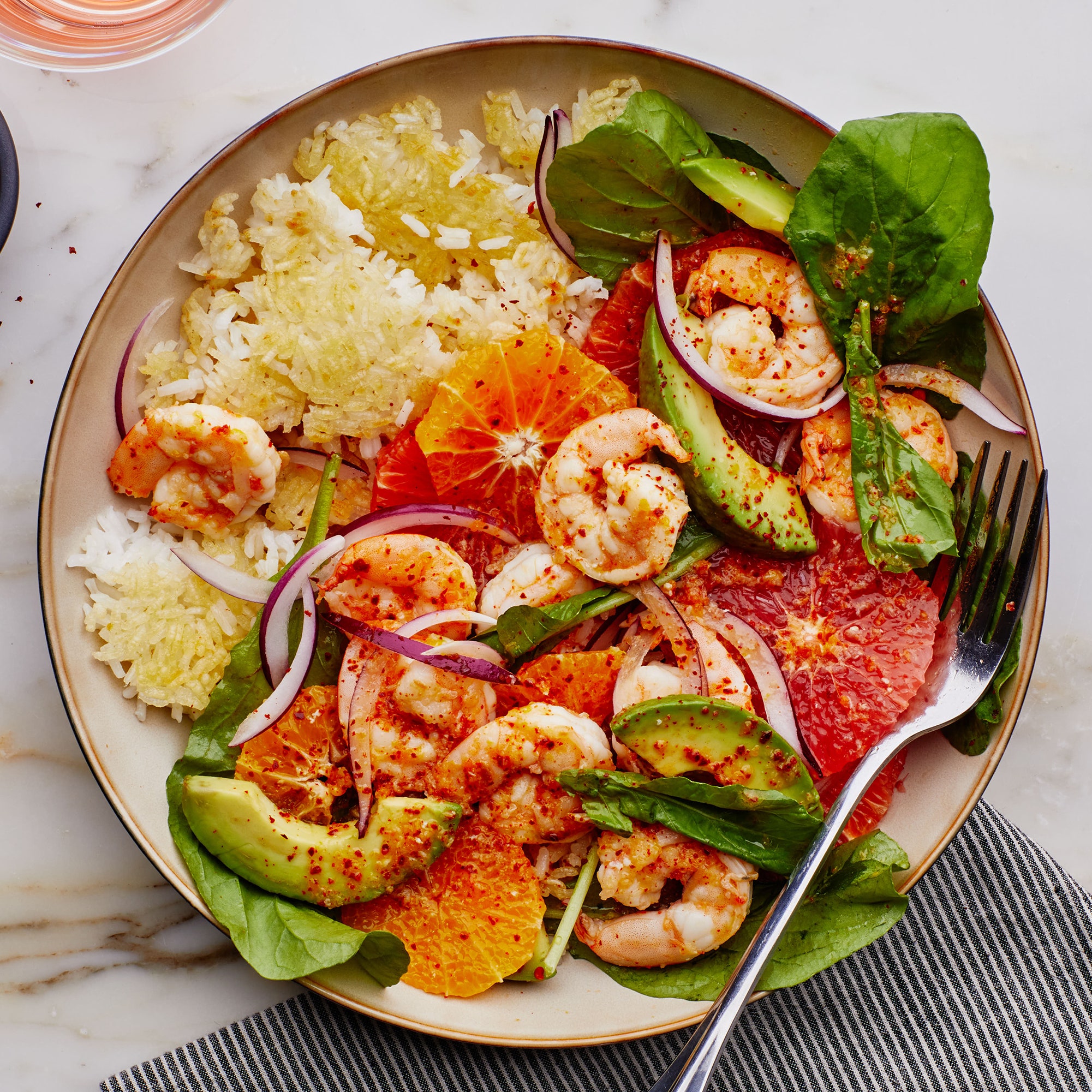 Main Ingredient

shrimp abc

Recipe Type: Public

Tags:

Notes:
Ingredients:
5 cups - medium- or long-grain white rice
1/2 - tsp. Diamond Crystal or ¼ tsp. Morton kosher salt, plus more
12 ounces - mixed citrus (such as Cara Cara oranges, blood oranges, and/or grapefruit)
2 - garlic cloves, finely grated
2 tablespoons - fresh lime juice
4 tablespoons - extra-virgin olive oil, divided
1/2 teaspoons - mild chile flakes, plus more for serving
1 pounds - shrimp, peeled, deveined, tails removed
1 - avocado, sliced
1 - small red onion, thinly sliced
3 cups - arugula
Directions:
Step 1
Rinse rice in a fine-mesh sieve until water runs clear. Place in a medium saucepan; add ½ tsp. Diamond Crystal or ¼ tsp. Morton kosher salt and 1¼ cups water. Stir well, then bring to a boil. Cover with a lid and reduce heat to lowest setting. Cook, undisturbed, 15 minutes. Remove from heat, uncover, and fluff rice with a fork.
Step 2
Meanwhile, slice an orange in half and finely grate in zest from 1 half into a large bowl. Squeeze juice from same half through a fine-mesh sieve into bowl; discard seeds (if using grapefruit, use 2 tsp. zest and 3 Tbsp. juice). Whisk in garlic, lime juice, 2 Tbsp. oil, and ½ tsp. mild chile flakes.
Step 3
Meanwhile, remove peel and white pith from remaining citrus; discard. Slice citrus into ¼"-thick rounds; set aside.
Step 4
Pat shrimp dry; season with salt. Heat 1 Tbsp. oil in a large nonstick skillet over medium. Cook shrimp, tossing occasionally, until bright pink and cooked through, about 3 minutes. Transfer to bowl with dressing; toss to coat.
Step 5
Heat remaining 1 Tbsp. oil in same pan over medium-high. Add rice; press into an even layer with a spoon. Cook, undisturbed, until light golden and crisp underneath, 6–8 minutes. Divide rice among plates, arranging crisped side up.
Step 6
Add avocado, onion, arugula, and reserved citrus rounds to bowl with shrimp and season with salt; toss well. Spoon over rice; drizzle any remaining dressing on top. Sprinkle mild chile flakes over.
---