Shake and Bake Pork Chops
Tell a Friend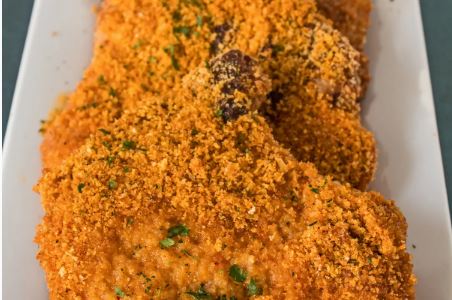 Brief Description

Easy homemade pork chops with a tasty breadcrumb coating that beats Shake and Bake any day!

Main Ingredient

pork chops

Category: Pork

Recipe Type: Public

Tags:
Ingredients:
6 - pork chops (bone-in or boneless, about 1/2-inch thick)
2 tablespoons - olive oil
1 1/2 cups - breadcrumbs (or Panko)
2 tablespoons - cornmeal (optional)
2 teaspoons - table salt
2 teaspoons - paprika (smoked paprika is best)
3/4 teaspoons - celery salt
3/4 teaspoons - garlic powder
1/2 teaspoons - ground black pepper
1/2 teaspoons - onion powder
Directions:
Preheat oven to 425 degrees F (218 degrees C) and line a baking sheet with parchment paper.
Rinse the pork chops, then pat them dry with a paper towel until completely dry.
Brush olive oil on both sides (all surfaces) of all the pork chops.
In a large Ziploc plastic storage bag mix together the bread crumbs, optional cornmeal, salt, paprika, celery salt, garlic powder, ground black pepper and onion powder. Close the bag and mix the ingredients together by shaking the bag gently until ingredients are well combined.
Reopen the bag of breadcrumbs and seasoning, then place 1 pork chop in the bag at a time. Seal the bag leaving a bit of air in the bag.
Next, shake the bag gently to coat the mixture over the entire pork chop until it is coated on all sides. Place the coated pork chop onto your prepared baking sheet, leaving space between the pork chops. Repeat for each pork chop, then discard any remaining breadcrumb mixture.
Bake in your preheated oven at 425 degrees F (218 degrees C) for approximately 20-25 minutes, until cooked through and the internal temperature is 145 degrees F (62 degrees C). Remove from the oven when done and serve immediately.
Hyperlinks:
https://bakeitwithlove.com/shake-and-bake-pork-chops/#recipe
---