Seafood Sinigang by NutriAsia
Tell a Friend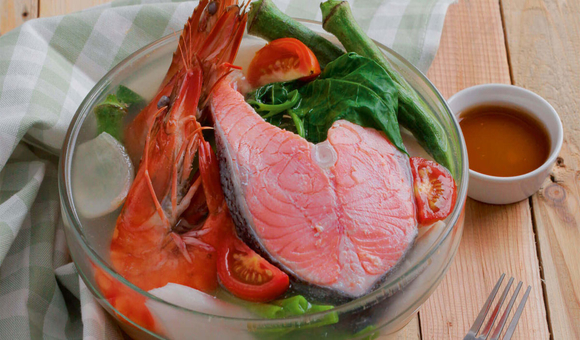 Brief Description

While many other soups have a more restrained flavor, sinigang hits you with its unmistakable sour taste. Not a week goes by when a Filipino household goes without this staple, in one form or another.

Main Ingredient

Fish

Recipe Type: Public

Source:

Notes:
Ingredients:
1/4 kilograms - Sliced Salmon
1/4 kilograms - Medium Shrimp
4 cups - Water
2 pieces - Tomatoes Sliced
1 pieces - Green Chili Pepper
1/4 cups - Raddish Sliced
1 teaspoons - Fish Sauce
1 packages - UFC Sinigang Sa Sampalok Mix
1/4 cups - Okra Sliced
1/4 cups - Kangkong Leaves and Stalks
Directions:
1. Combine water, onion, tomatoes, labanos, sili and Datu Puti Patis. Simmer for 5 minutes.
2. Add fish, shrimps and okra. Allow to simmer. Add UFC Sinigang Mix and kangkong. Simmer for 5 minutes or until cooked. If desired serve with Datu Puti Patis on the side.
---