Seafood and Rice Casserole
Tell a Friend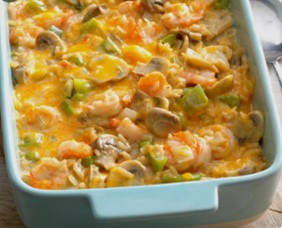 Brief Description

A complete meal - in ONE pan! My all-time favourite fish dish obtained from a fisherman on the docks in Summerside in 1963.

Main Ingredient

halibut, lobster and shrimp

Recipe Type: Public

Source:

Tags:

Notes:
Ingredients:
4 - peppercorns
1 - bay leaf
2 - green onions
2 - celery tops - leaves
1 1/2 cups - water to which bouquet garni has been added
1 pounds - raw shrimp
1/2 pounds - halibut cut into 1-inch cubes
2 cans - 5 oz. each lobster (OR 2 cups cooked lobster OR 1 tin lobster tomale) broken into bite size pieces
1/4 cups - olive oil
1 cloves - garlic minced
2 - tomatoes chopped
1/2 cups - chopped onion
1 1/2 teaspoons - salt
1/4 teaspoons - ground pepper
1 cups - converted long-grain rice
2 sprigs - fresh parsley
2 sprigs - fresh thyme
Directions:
Tie the Bouquet Garni ingredients together into a "bundle" securely to use as a flavouring.
Prepare shrimp flavoured liquid. Peel and drain, saving stock. Shell and remove veins from shrimp; set aside. Strain stock and measure out 1 1/2 cups. Set aside.
To a large pan, add olive oil, garlic, tomatoes, onion and cook gently until onion is soft.
Add the bouquet garni and the stock in which the shrimp had been barely cooked along with salt and pepper and simmer gently for 5 minutes. Push the lightly cooked vegetables and bouquet garni to the sides of the pan and add the rice to the liquid in the center. Cook 5 minutes with cover on.
Remove cover and cook 10 minutes longer until the liquid is almost absorbed.
Add the cut-up halibut and lobster and reserved shrimp to the pan and cook another 5 minutes. The fish should be JUST cooked through.
Remove the bouquet garni, stir and serve.
---