Rosemary-Rubbed Side of Salmon with Roasted Potatoes, Parsnips a
Tell a Friend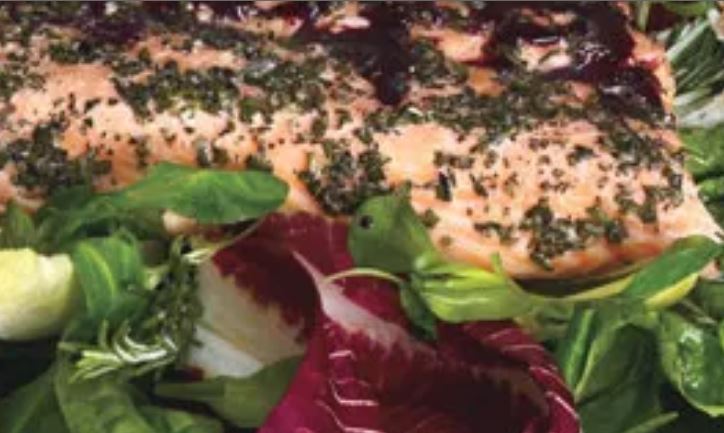 Brief Description

Rosemary seasoned salmon roasted with potatoes, parsnips and mushrooms.

Main Ingredient

salmon

Recipe Type: Public

Tags:

Notes:

Serves 8-10
Ingredients:
1 1/2 cups - loosely packed fresh rosemary leaves
4 teaspoons - coarse kosher salt
2 teaspoons - freshly ground black pepper
6 tablespoons - olive oil, divided
1 pounds - red-skinned or white-skinned potatoes, cut into 3/4-inch pieces
1 pounds - parsnips, peeled, cut into 3/4-inch pieces
3 1/2 pounds - whole side of salmon with skin
1 pounds - crimini (baby bella) mushrooms, quartered if large, halved if small
1/3 cups - Pinot Noir or other dry red wine
- assorted salad greens
Directions:
In a processor, blend rosemary, salt, and pepper until finely chopped. With machine running, gradually add 4 tablespoons oil; process until it resembles a coarse paste.
Position 1 oven rack in top third of oven and 1 oven rack in bottom third of oven; preheat to 450°F. Toss potatoes, parsnips, 2 tablespoons oil, and 3 tablespoons rosemary mixture in large bowl. Transfer vegetable mixture to rimmed baking sheet, arranging in an even layer; roast vegetables on the lower rack for 20 minutes.
Line a large rimmed baking sheet with parchment paper. Place salmon, skin side down, on the prepared sheet. Spread with remaining rosemary mixture. Toss mushrooms with vegetable mixture. Return vegetable mixture to lower rack; place salmon on upper rack. Roast salmon until just opaque in center and vegetables until they are just tender, about 20 minutes.
Line a serving platter with the salad greens; place salmon on top of greens. Transfer vegetables to a large serving bowl.
Place vegetable baking sheet over 2 burners on high heat. Add wine and bring to boil, scraping up browned bits. Drizzle juices over salmon.
Hyperlinks:
https://www.bonappetit.com/recipe/rosemary-rubbed-side-of-salmon-with-roasted-potatoes-parsnips-and-mushrooms
---