Roasted Tofu in Coconut Milk (Tofu Asado en Leche de Coco)
Tell a Friend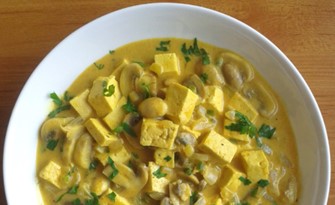 Brief Description

Roasted tofu in coconut milk.

Main Ingredient

tofu

Recipe Type: Public

Source:

Tags:

Notes:

Recipe from Plant-Based Guatemalan Cooking Class as instructed by Cordon Bleu Chef Mike Murdoch (Toronto)
Ingredients:
1 blocks - extra firm tofu (around 400g) pressed for 15-20 minutes
1 tablespoons - (15 mL) avocado or extra virgin olive oil
2 tablespoons - (30 mL) tapioca or corn starch
1/2 teaspoons - (2.5 mL) sea salt
2 tablespoons - (30 mL) avocado or extra virgin olive oil
1 - large onion diced
3/4 - red pepper sliced into strips
1 - or 2 jalapenos diced
3 cloves - to 6 cloves garlic minced
1/2 teaspoons - (2.5 mL) achiote/annatto powder see notes
1/2 teaspoons - (2.5 mL) ground coriander
1/2 teaspoons - (2.5 mL) ground cumin
1/4 tablespoons - (1.25 mL) ground black pepper
1 1/2 cans - 400 mL coconut milk (600 mL total)
1 teaspoons - (5 mL) sea salt or to taste
- chopped cilantro to serve
Directions:
1. Preheat oven to 400F (205C). Line a baking tray with parchment paper.
2. Press tofu between paper towel or a lint-free kitchen towel for 15-20 minutes; top it with a plate or small cutting board then weight it down with the cans of beans. Tear into bite sized chunks and place in a medium sized bowl. Toss tofu chunks with oil. Add tapioca starch and salt; toss to coat. Transfer to prepared baking tray and bake for 20-25 minutes or until sizzling and lightly golden.
3. While tofu is baking, prepare the sauce. In a large skillet, heat remaining oil over medium. Add onion and peppers; sauté 3-4 minutes or until starting to brown. Add garlic and spices, cook 1 minute longer.
4. Pour in coconut milk and season with salt to taste. Bring to simmer.
5. Simmer sauce for 10-15 minutes or until thickened slightly. Add roasted tofu simmer 5 minutes longer. Serve garnished with chopped cilantro or parsley.
Notes…
If you want to make this less spicy, remove the seeds and white ribs from the inside of the jalapenos. To make it spicier, add in a seeded diced habanero; or unseeded if you REALLY like the heat!
Achiote or annatto is a traditional spice used in many Latin American and Caribbean countries. If you can't find it, or don't want to buy a large quantity, replace the ½ tsp/2.5 mL achiote/annatto powder with ½ tsp/2.5 mL paprika and ¼ tsp/1.25 mL turmeric. This won't have the same flavor but is an acceptable substitute in a pinch.
If you have a lot of hot peppers to prepare and you are not wearing gloves, once done - put a teaspoon of olive oil in your hands and some sea salt and rub your hands together as if you were washing them ensuring you get the oil/salt mixture all over. Then, wash your hands with soap and water. The capsaicin (the chemical that puts the hot in 'hot peppers') is oil-soluble, so, doing the oil/salt 'wash' is way more effective than soap/water.
---