Roast Turkey with Butter Injected Marinade
Tell a Friend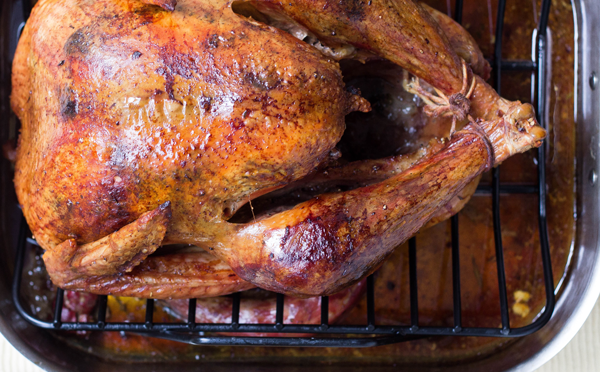 Brief Description

Roast the perfect juicy turkey for Thanksgiving with this butter-injected marinade injected the day before cooking; baste with a similar mixture while roasting for delicious turkey that is so easy to make.

Main Ingredient

turkey

Recipe Type: Public

Tags:

Notes:

You need a good roasting pan with roasting rack and an injection tool for the marinade.

Posted By: mcarr
Ingredients:
Injection Marinade
1/2 cups - chicken broth
2 tablespoons - unsalted butter
1 tablespoons - lemon juice
1/2 teaspoons - garlic powder
1/2 teaspoons - finely ground black pepper
1/2 teaspoons - kosher salt
Roasted Turkey
15 pounds - whole turkey
2 cups - broth or water
1 cups - melted butter
Gravy
1/4 cups - flour
1/4 cups - fat skimmed off top of pan juices
4 cups - pan juices / broth
Directions:
For Injection Marinade:
Gather the marinade ingredients. Mix together in a microwave-safe bowl or a small saucepan. Heat and mix well until butter is completely melted. Be sure to cover the bowl with a paper towel if heating in microwave.
Remove the bag of giblets and neck from the body cavity and set aside and refrigerate for future use.
Let the marinade mixture cool slightly. Load it into a meat injector and slowly and carefully inject it into various parts of the turkey; the breast meat really benefits from this mixture, so it's best to aim for about 10-12 spots in the breast, adding about 2 teaspoons per site - or less if you see the fluid starting to ooze out.
Massage the bird lightly around the injection sites to spread out the mixture; cover and let rest in fridge overnight or for several hours before cooking. Discard any mixture that came into contact with injector syringe.
For Roasting Turkey:
Half an hour before roasting, remove turkey from refrigerator
Place thawed turkey, breast-side up, in large roasting pan - pan with roasting rack to keep bird off of bottom of pan; no lid or cover required.
Preheat oven to 350 degrees F. Sprinkle / rub a little salt and pepper over outside of turkey before putting it in the oven. Leave the turkey un-stuffed and un-trussed so the turkey will cook more evenly.
Add one cup of chicken or vegetable or turkey broth or water to the roasting pan for moisture.
Plan to roast the turkey for 13 minutes per pound, but start checking the temperature of the turkey about halfway through your scheduled cooking time to see how fast it is cooking. If the breast starts to brown too quickly, tent a piece of aluminum foil lightly over the top to prevent further browning while it cooks.
Mix together one cup of broth with one cup of melted butter and any seasonings you prefer (I usually sprinkle in some sage, poultry seasoning, salt and pepper and/or garlic powder). Every 45 minutes, gently baste the turkey with this mixture, using a baster or a spoon to gently drizzle the mixture over the turkey.
Use a meat thermometer to check the temperature of the turkey in three places - the breast, the outer thigh and inner thigh; in each case, the meat should be at least 165 degrees F when turkey has finished cooking.
Remove turkey from oven. Lift the whole turkey to a clean cutting board and let sit for 15-30 minutes before carving. The resting time helps juices re-absorb into muscle tissue, making turkey easier to slice and juicier to taste.
Make Gravy:
In a medium size saucepan over medium-low heat, mix together 1/4 cup of flour with 1/4 cup of fat drippings skimmed off top of the pan juices. Strain the pan juices to remove bits or chunks, and whisk 4 cups of the juices slowly into the saucepan with the flour mixture, stirring and cooking over medium-low heat until thickened and smooth. Turn down to low, stirring frequently, or turn off heat and cover with lid until ready to serve.
---