Ricotta Thyme Spaetzel (Grandma G's Version)
Tell a Friend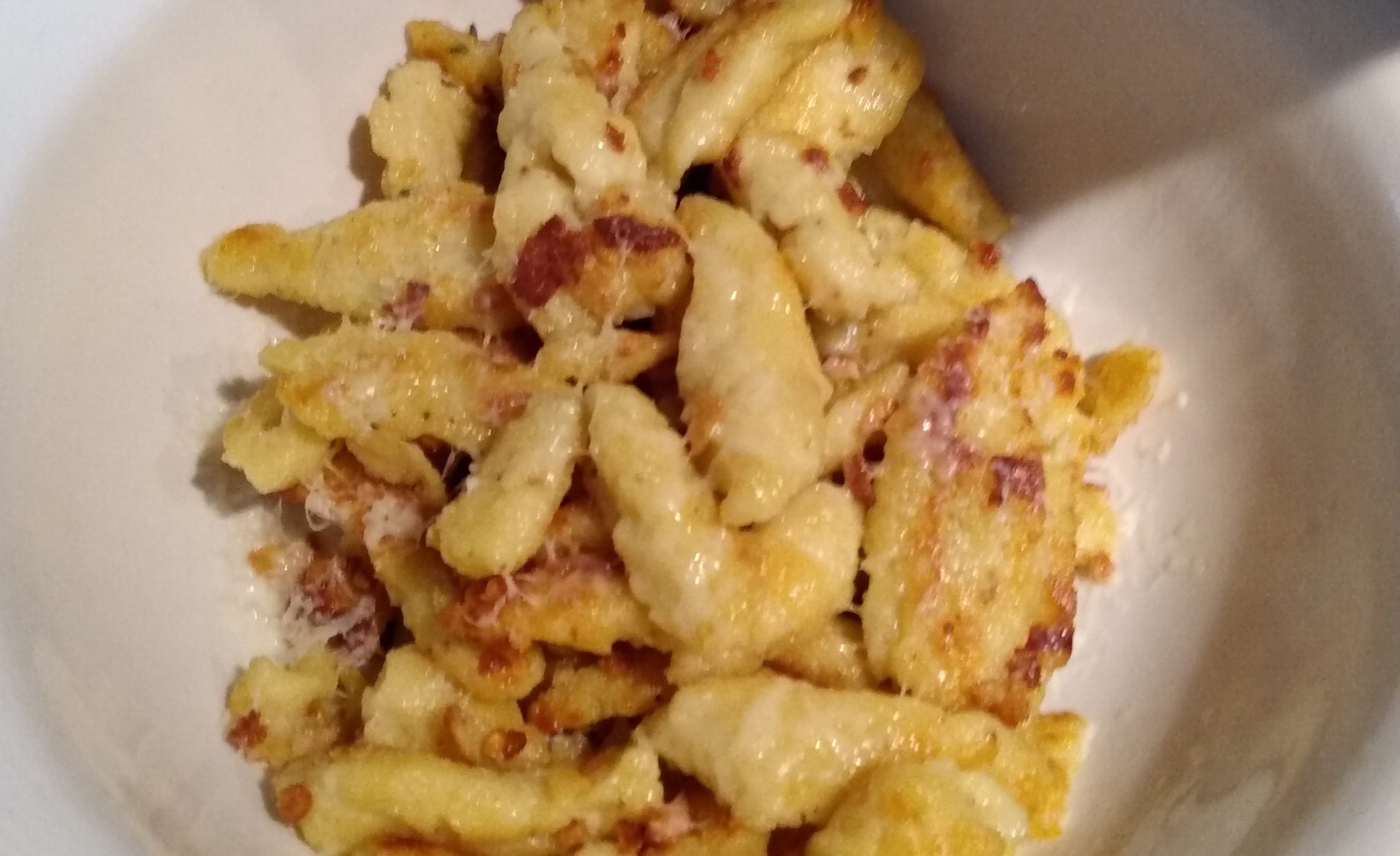 Brief Description

From Janet's Cookbook: "The ricotta makes the spaetzel sooooo much lighter than the German version I was raised with."

Main Ingredient

Flour, Eggs, Ricotta, Thyme

Recipe Type: Public

Tags:

Notes:
Ingredients:
- Kosher Salt To taste
- Freshly Cracked Black Pepper To taste
2 cups - All-Purpose Flour
4 - Eggs
1/3 cups - Water
1 cups - Whole Milk Ricotta
1 tablespoons - Fresh Thyme Leaves Chopped
3 tablespoons - Butter plus 1 tablespoon
2 tablespoons - Olive Oil
1 tablespoons - Minced Garlic
1/2 teaspoons - Red Pepper Flakes
Directions:
Bring a large pot of salted water to a boil over medium heat.
Heat the olive oil in skillet till warm. Add garlic and optional red pepper flakes. Turn off heat and reserve till later. The garlic will infuse the oil.
Brush the interior of a large bowl with the remaining 1 tablespoon of butter and set aside.
Whisk the flour and salt and pepper, to taste, together in a large bowl. In a medium bowl, whisk the eggs and water well and fold in the ricotta and thyme. Pour the wet ingredients into the flour and whisk well until smooth. The batter should be the consistency of an extra thick pancake batter. Adjust flour or water accordingly.
Scrape batter onto a plate. With a steak knife begin cutting off small chunks of the batter (about 1 inch long, 1/2 inch thick) and drop them into the boiling, salted water. When the little "dumplings" rise to the surface they are basically done. Using a slotted spoon remove the spaetzel from the water and toss into the buttered bowl. The butter keeps them from sticking. Repeat the process until all the batter is used. The instructions are harder than the process!
At this point you can refrigerate the cooked spaetzel for later use.
When ready to eat, bring the skillet with the olive oil to a simmer over medium heat. Add the reserved butter and cook until the butter melts into the oil. Add the spaetzel and toss well to coat in the garlic oil/butter. Bring heat to medium/high and lightly brown spaetzel. Test for salt. Flip once, and crisp remaining side. Transfer to a serving bowl and serve immediately.
---