Reindeer Crunch
Tell a Friend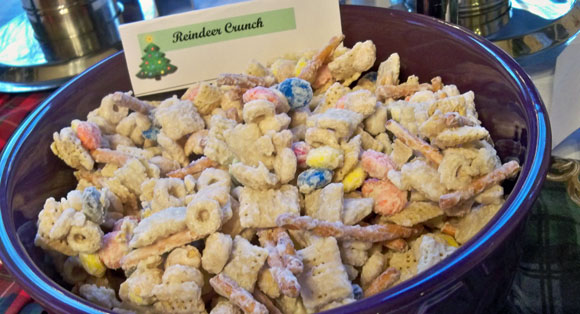 Ingredients:
1 pounds - almond bark coating or white chocolate chips
3 cups - rice chex cereal
3 cups - corn chex cereal
3 cups - plain cheerios cereal
2 cups - pretzel sticks
2 cups - dry-roasted peanuts
2 cups - M&M's candies
Directions:
Place almond bark or chocolate chips in a microwave-safe bowl and microwave on high for 30-second intervals, stirring between each, until chocolate is melted.
Combine remaining ingredients in a large bowl, then drizzle melted chocolate over top and mix well. Spread in a shallow layer on a cookie sheet (lined with waxed or parchment paper). Allow to cool completely. Then either serve in large bowl for guests or separate into single-serving bags or an inexpensive pet bowl for a fun gift idea.
---