Pumpkin Cranberry Bread Brie Wreath
Tell a Friend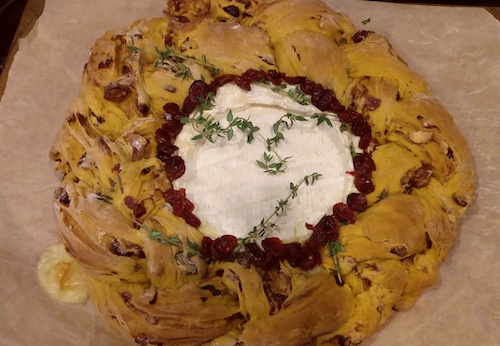 Brief Description

This is a recipe I adapted and made into a brie appetizer for Thanksgiving or Christmas. The bread is slightly sweet, it tastes great with brie, but also great with butter or jam if you just want to make the bread. It works well as a regular loaf as well.

Main Ingredient

Pumpkin Puree, Yeast, Brie

Recipe Type: Public

Tags:

Notes:

I tend to use dried cranberries and pecans just because that's what I enjoy. This is a very customizable recipe. I also go heavy on spices.
Ingredients:
3 cups - bread flour
1 teaspoons - cinnamon
1/2 teaspoons - nutmeg
1/2 teaspoons - salt
2 tablespoons - tepid water
1 - package of active dry yeast
5 tablespoons - unsalted butter at room temperature
1/3 cups - sugar
1 cups - pumpkin puree
1 - large egg room temp
3/4 cups - walnuts toasted, chopped
1/2 cups - golden raisins
1/2 cups - dried cranberries
2/3 cups - fresh cranberries
Directions:
1. Whisk 2 2/3 cup of flour with the cinnamon, nutmeg and salt and set aside.
2. Pour the water into a small bowl and sprinkle the yeast on top of it. Whisk with a fork and set aside until creamy - about 5 minutes.
3. In a stand mixer with the paddle attachment cream the butter and sugar together on medium speed. Add the pumpkin and egg and beat until blended. Mixture will look curdled.
4. Set the mixer to low and add the yeast, then add the flour mixture 1/2 cup at a time until it starts to form a dough and comes together. Scrape the dough off the paddle and switch it out for the dough hook. (If your dough doesn't come together, add 1-2 more tablespoons of flour).
5. Mix /kneed on a medium low speed for 10-15 minutes, scraping the sides and hook occasionally with a rubber spatula. Dough will be soft and sticky. Add the walnuts, raisins and dried cranberries and mix on low to combine it with the dough, about 1 minute. Add the fresh cranberries and mix gently just to incorporate.
6. Scrape the dough into a lightly oiled bowl, cover tightly with plastic wrap and let rise for 2 hours or until doubled in size.
7. When the dough has doubled, fold it over on itself a few times to deflate, wrap it tightly and refrigerate overnight.
8. At least 6 hours before you want to begin baking, remove the dough from the refrigerator and let it come to 64 degrees on an instant read thermometer (about 3-4 hours). Dough will be a little cool and spongy.
9. Working on a lightly floured surface, divide the dough into three equal pieces and roll them into long ropes. Approximately 42 inches each.
10. Braid the ropes into a wreath. It's okay to stretch the ropes if needed. Use the brie wheel you bought to estimate how much space you need in the middle. You can also just trim the brie wheel to fit later if there is not enough space.
11. Cover the pan lightly with a kitchen towel or lightly oiled plastic wrap and allow to rise at room temperature for 1 1/2 to 2 hours or until nearly doubled in size.
12. Place the oven rack in the center of the oven and preheat the oven to 350 degrees. Bake for about 25 minutes, add brie wheel, bake an additional 10-15 minutes or until deep golden brown and brie is bubbling. Remove from the oven and for 5-10 minutes before serving warm. Sprinkle some dried cranberries on top and a twig of thyme for looks.
This is best served warm, the brie melts out of the center. In my experience it lasts for a couple days after before losing it's yum factor.
---