Prosciutto Wrapped Baked Salmon with Pear Salsa
Tell a Friend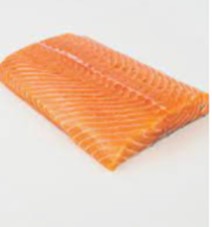 Brief Description

Salmon with prosciutto served with pear salsa.

Main Ingredient

salmon

Recipe Type: Public

Source:

Tags:

Notes:

Quantities and measurements are not precise; adjust to accommodate the number of people at your dinner table.
Ingredients:
4 - salmon fillets
4 pieces - to 8 pieces (1 or 2 for each fillet) thin cut prosciutto
- equal parts butter and olive oil for frying pan
- salt and pepper
3 - pears cubed
- equal parts butter and olive oil for frying pan
- a glug of maple syrup
Directions:
Buy boneless, skinless salmon filets (as big/small as you and your guests would like. Try and ensure they are somewhat uniform in size. For the skinny belly pieces/or small tail pieces, tuck them under to double the thickness).
For each salmon filet, have 1 or 2 pieces of thin cut prosciutto on hand
Preheat oven to 400 degrees F.
Pat the salmon dry. Salt and pepper it (although I tend to just use pepper--I find it salty enough). You can add other spices here if you like as well. Wrap a slice of prosciutto around each salmon filet.
Bring a fry pan with 1/2 butter and 1/2 olive oil to fairly hot. Add the salmon and cook for about 1 minute; flip it and cook 2nd side for one minute and then into the oven. Pop the frying pan into the oven for ~10 minutes is the "guideline" for cooking (depends on the oven, the filet thickness, etc, etc) NOTE: Make sure all parts of your frying pan can stand 400 degree heat; if not; transfer the filets to a baking sheet and continue with the cooking.
Chutney:
Add cubed pears to a frypan heated to med-hi with 1/2 butter and 1/2 olive oil. Let the pears sit for 5 minutes (or more) so that they caramelize before stirring or tossing. Once they've had 10 minutes cooking, add a glug of maple syrup and let it reduce down a bit.
Plate the filets with the pretty side up. Tumble chutney over salmon and serve (with rice, with salad, with cooked veg; with couscous – really whatever you like and have on hand).
MEMORY LANE: This was a date-night cooking class with a chef from an Ottawa fish restaurant. I love it and make it often as it is easy. It is a forgiving recipe and you can make all or parts of it in advance.
---