Parker House Roll Dough
Tell a Friend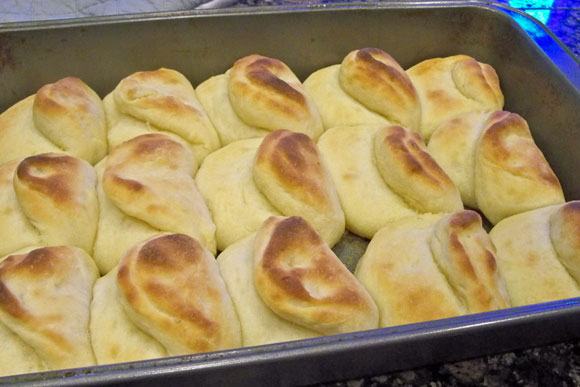 Brief Description

The secret to this dough is instant potato flakes; this dough makes a terrific topping for potpie, too.

Main Ingredient

flour

Recipe Type: Public

Notes:

Make Ahead: The dough can rise in the refrigerator overnight. Let return to room temperature, then punch down and proceed. For potpie topping: after first rising of dough, punch down, and let rest 5 minutes. Divide dough into 8 equal balls, roll out dough to a round slighly larger than rim of ramekins for baking pot pies; trim off any excess. Brush dough rounds with melted butter and bake potpies for about 30 minutes until crust is deeply golden and risen.

Posted By: mcarr
Ingredients:
3 cups - all-purpose flour plus more for dusting
1 cups - instant potato flakes
2 teaspoons - salt
1 1/2 cups - milk
3 tablespoons - unsalted butter
2 1/2 tablespoons - sugar
2 envelopes - instant dry yeast
1 - large egg
Directions:
In a standing electric mixer fitted with the dough hook, combine the 3 cups of flour with the potato flakes and salt. In a small microwave-safe bowl, heat the milk, butter and sugar just until warm. Stir in the yeast and let stand until foamy, about 5 minutes. Add the yeast mixture to the mixing bowl with the egg and beat at medium speed until smooth, about 5 minutes. Scrape the dough out onto a lightly floured work surface and knead until supple and silky, about 3 minutes.
Spray the bowl with vegetable spray and add the dough. Cover and let rise until doubled in size, about 1 hour. Punch down the dough and transfer to a floured work surface. Let rest for 15 minutes before using.
Preheat oven to 400 degrees F. Pour 1/3 cup of melted butter into one 9-inch by 13-inch baking pan; tilt pan to grease bottom.
On lightly floured surface with floured rolling pin, roll dough 1/2 inch thick. With floured 2 3/4-inch round cutter, cut dough into circles. Holding dough circle by the edge, dip both sides into melted margarine or butter pan; fold in half.
Arrange folded dough in rows in pans, each nearly touching the other. Cover pan with towel; let dough rise in warm place until doubled, about 40 minutes.
Bake rolls for 15 to 18 minutes until browned.
---