No-Knead Balsamic-Glazed Cherry Focaccia | King Arthur Flour
Tell a Friend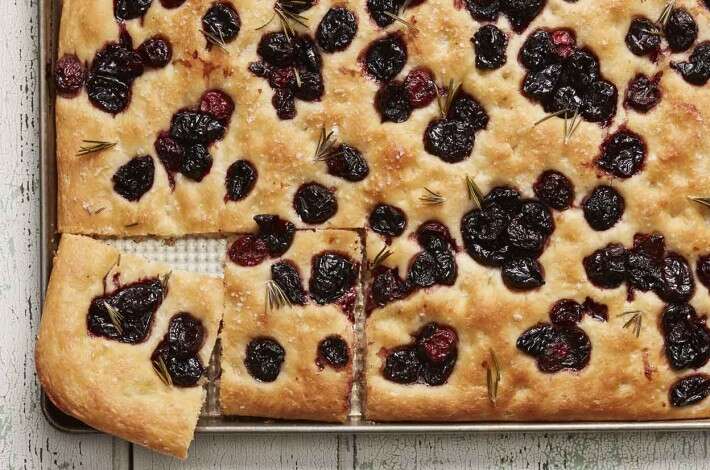 Brief Description

A light and chewy flatbread with bursts of cherry flavor

Main Ingredient

Bing cherries

Recipe Type: Public

Tags:

Notes:
Ingredients:
4 cups - King Arthur Unbleached Bread Flour
1/4 cups - potato flour or 1/2 cup dried potato flakes
2 1/2 teaspoons - instant yeast
1 teaspoons - sugar
3/4 teaspoons - salt
2 tablespoons - olive oil
1 1/2 cups - lukewarm water
3 tablespoons - olive oil divided
3 cups - Bing cherries, pitted and halved or one 14.5-ounce can tart pitted cherries, drained
2 tablespoons - balsamic vinegar
1 tablespoons - Kirsch (cherry liqueur), or water
2 tablespoons - fresh rosemary or 1 tablespoon dried rosemary
1/2 teaspoons - sea salt, Maldon preferred
Directions:
To make the dough: Mix the dough ingredients briefly, to form a rough ball. Cover; let rest for 3 hours.
To make the topping: Heat 1 tablespoon of the olive oil in a large pan over medium-high heat. Sauté the cherries for about 3 minutes, until they begin to release their juices. Stir in the vinegar and Kirsch, cooking until the liquid turns syrupy and coats the cherries. Remove from the heat and cool.
Drizzle 1 tablespoon olive oil into the bottom of a half-sheet (13" x 18") pan. Spread dough into the pan, pushing it to the edges. If it shrinks back, walk away for 10 to 15 minutes; when you return, it should be easier to work with. Repeat the short rest, if necessary. Brush 1 tablespoon olive oil over the dough, and top with cherries, rosemary, and sea salt. Cover and let rest 90 minutes. Towards the end of the rising time, preheat the oven to 400°F. Bake the focaccia for 20 to 25 minutes, until the top is golden brown and crusty. Remove it from the oven, cut, and serve.
---