Mushroom Barley Soup
Tell a Friend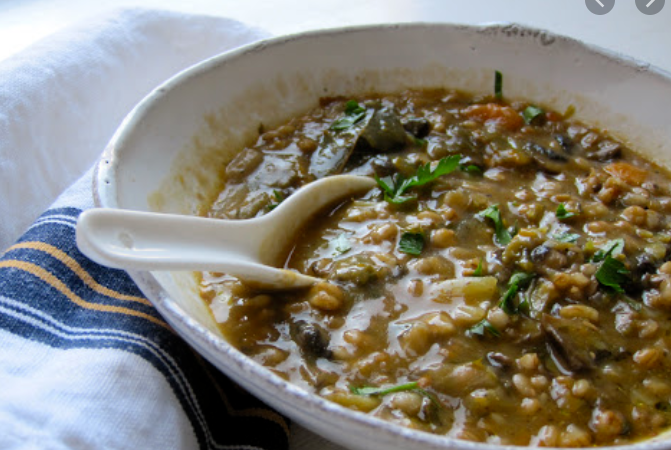 Brief Description

One of my favorite, thick & hearty soups. I changed the recipe from a cookbook because I really love mushrooms. The prep takes a bit longer because you are cooking the barley for 40 min but is well worth the effort. Freezes well! I changed the recipe to my liking each time. Feel free to do the same! I would love to hear your variations on this.

Main Ingredient

Mushrooms

Recipe Type: Public

Tags:

Notes:

The leftover soup's barley/rice will continue to absorb liquid stretching the soup out longer!
Ingredients:
1 cups - Raw Barley can substitute with brown rice
6 cups - Broth boiling (more as needed)
2 tablespoons - Sunflower Oil
2 cups - Onions chopped
4 - Carrots Sliced
1 tablespoons - Dried Dill Weed
4 stalks - Celery
1 - Portabello Mushroom
1 packages - Brown Mushrooms 4 ounces
- Black Pepper to taste
1/2 cups - Madera/Cream Sherry Optional
1 teaspoons - Salt omit if your broth is salty
1 tablespoons - Tamari omit if your broth is salty
1/2 cups - Fresh Parsley garnish
1/3 cups - Unbleached White Flour optional
1 cups - Sour Cream optional
Directions:
Combine barley and boiling stock in a 4-quart soup pot. Cover and simmer until tender, about 40 minutes (lately I've been using my rice maker).
When barley is almost done, in a large pan, heat the oil and saute the onions, carrots, and dill weed. A few minutes later, add the celery. When browned and cooked nicely, add to soup pot. Sauté mushrooms in same fry pan quickly on high heat until lightly cooked, then add to soup pot. Let simmer 30 minutes covered. Add Madera, pepper, salt, tamari, and more water/stock as needed. The barley or rice will continue to absorb water, making the soup thick. Before serving, add parsley.
To add a creamy taste to the soup, mix the flour with the sour cream,. Stir until thick. Add slowly to soup on low heat and serve.
---