Mujadara Recipe | Bon Appétit
Tell a Friend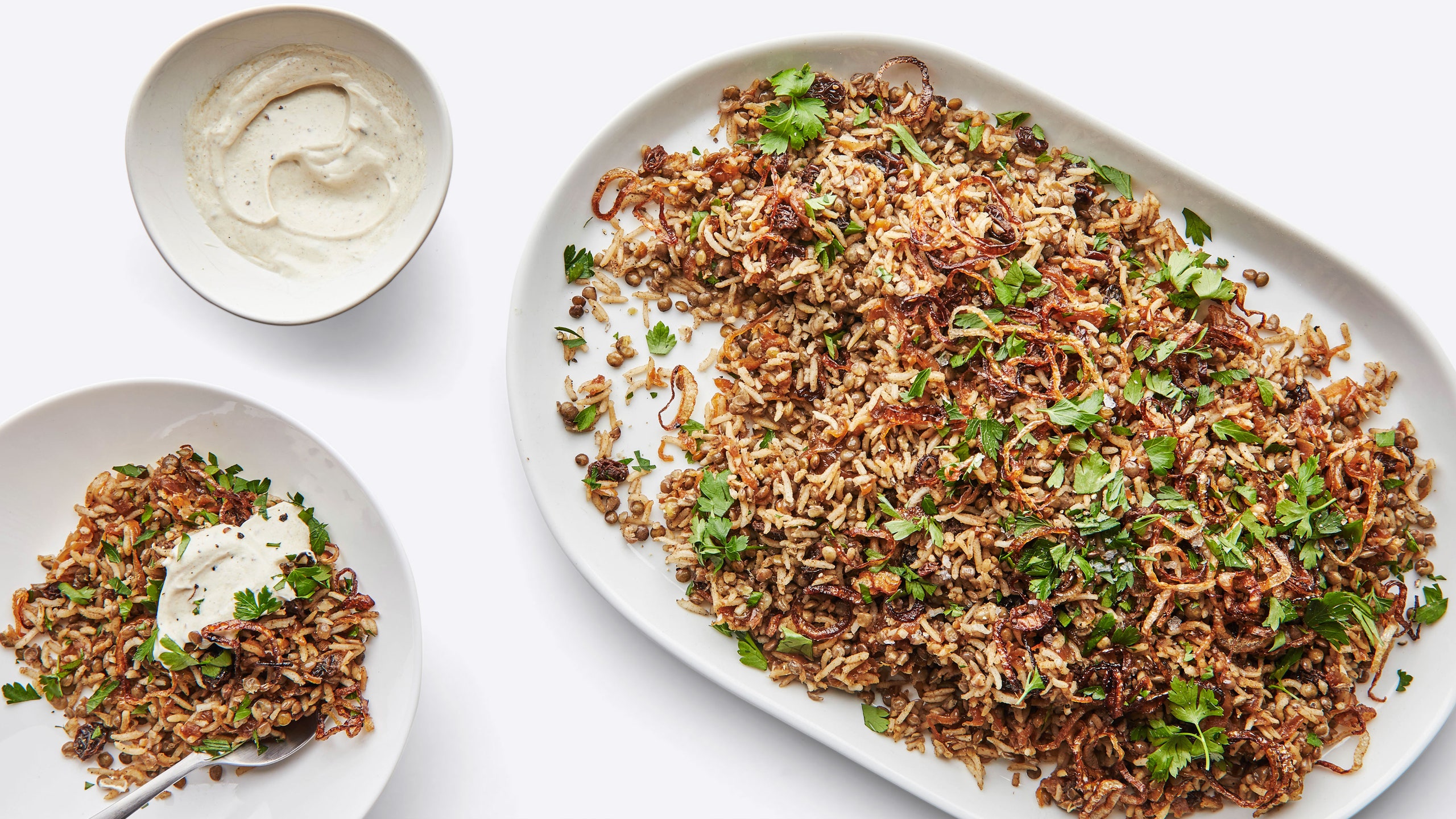 Brief Description

Rice/lentil side dish

Main Ingredient

rice; lentils

Category: Rice

Recipe Type: Public

Tags:

Notes:
Ingredients:
1/2 cups - raisens
1 - lemon
4 - medium onions
1/4 cups - plus 3 Tbs extra virgin olive oil
1/2 teaspoons - sugar
1 cups - french green lentils
1 cups - basmati rice
1/4 teaspoons - ground cinnamon
2 1/4 teaspoons - ground coriander, divided
2 1/4 teaspoons - ground cumin, divided
1/2 cups - fried shallots, divided
1/2 cups - parsley leaves with tender stems
1/2 cups - plain Greek yogurt
- kosher salt and fresh black pepper
Directions:
Bring a large pot of generously salted water to a boil. Meanwhile, place ½ cup raisins in a small bowl. Squeeze in juice from one half of lemon and pour 1 Tbsp. very hot water over. This will plump them up. Stir to combine; set aside until ready to use.
Halve and peel 4 medium onions. Go ahead and suit up with some protective eyewear, if that's necessary for you. Thinly slice onions into half-moons (you should have about 7 cups). This is a fair amount of slicing, but it's almost the only knifework.
Caramelize the onions: Heat ¼ cup extra-virgin olive oil in a large skillet over medium. Add onions and stir to coat in oil. Season with salt, then reduce heat to low and cover skillet (use a baking sheet if you don't have a lid). Cook, stirring occasionally, until onions are softened and translucent, about 15 minutes. In this step, the onions steam in the liquid they release, which ensures that they\'ll caramelize more evenly, with less chance of burning.
Uncover skillet and sprinkle onions with ½ tsp. sugar, which increases caramelization. Increase heat to medium-high and continue to cook onions, stirring frequently and reducing heat as needed, and adding 1 Tbsp. water to deglaze pan (that is, scrape up all those brown bits) if it's getting too dry, until chocolatey-brown and reduced in size by about two-thirds, 35–40 minutes.
Meanwhile, add 1 cup French green lentils to boiling salted water. Stir so there are no sinkers or stickers, then cook, stirring occasionally, until cooked through but still al dente, 20–25 minutes. Drain and set aside. Wipe pot dry.
As lentils cook, rinse the rice. The easiest way to do this is to place 1 cup basmati rice in a medium bowl, cover with cold water, swish rice with your hand, then dump out the water in a swift, fluid motion (the rice will stay at the bottom of the bowl!). Repeat twice. Set rice aside to drain in a fine-mesh sieve.
Heat 2 Tbsp. extra-virgin olive oil in same pot over medium-high until hot. Add ¼ tsp. ground cinnamon, 2 tsp. ground coriander, and 2 tsp. ground cumin and cook, stirring, until fragrant and a shade darker, about 30 seconds.
Add rice and 2 tsp. Diamond Crystal or 1¼ tsp. Morton salt and stir to coat the rice in the spices, about 30 seconds. Pour in 1½ cups water and bring to a boil (it might happen almost immediately!). Reduce heat to lowest setting, cover with lentils in an even layer, and cover pot. Cook, undisturbed, until water is absorbed, about 15 minutes. Fluff with a fork and cover pot again.
Your onions should be caramelized by now! Add raisins (and any liquid in bowl) and stir to combine. Transfer onion mixture to pot with rice. Add half of fried shallots and juice from remaining lemon half. Stir to combine, season with salt, and keep covered until ready to use.
Now the finishing touches. Coarsely chop ½ cup parsley leaves with tender stems. Mix ½ cup plain Greek yogurt and remaining 1 Tbsp. extra-virgin olive oil, ¼ tsp. coriander, and ¼ tsp. cumin in a small bowl. Season with salt and pepper.
Transfer mujadara to a platter. Top with parsley and remaining fried shallots. Serve with yogurt sauce alongside.
---