Meat Pies
Tell a Friend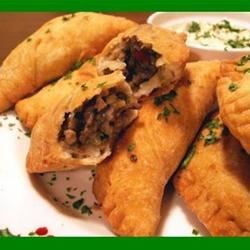 Brief Description

Freezer friendly make-ahead treat made with pre-made pie crust and a spicy meat filling.

Main Ingredient

ground beef or pork

Recipe Type: Public

Source:

Notes:

This is my family's favorite recipe to make together. Louisiana raised, we add a little more spice here and there. Great recipe for game day, holidays, and just every day!
Ingredients:
1 1/2 pounds - ground beef
1 1/2 pounds - ground pork
1 cups - chopped green onions tops and bottoms
1 tablespoons - salt
1 teaspoons - coarse ground red pepper or to taste
1/2 teaspoons - cayenne pepper
- garlic and other spices or seasonings to taste
1/3 cups - all-purpose flour
3 packages - 2 count Pillsbury Pie Crust
1 - medium or large coffee can top for cutting out crust pieces
Directions:
Filling:
Mix the filling ingredients (except for flour) in a large skillet and cook over medium heat until meat loses its red color. Do not overcook. Stir occasionally. Sift flour over the mixture and stir occasionally; remove from heat. Let cool and drain excess grease from meat.
Crust:
Sift some flour onto wax paper. Roll one pie crust out, using a rolling pin to thin dough until you can make 6 coffee lid size circles (pastry round) out of each pie crust.
Assemble:
Place a heaping tablespoon of filling on one side of each pastry round. Dampen edge of dough with a few drops of water and then fold over to crease, making a half-moon shape, and sealing with fingertips by pressing edges together and crimping with a fork. Prick with a fork twice on top.
Freeze:
Freeze 8 meat pies per gallon bag.
Cook:
Freezer to oven - Bake at 350 degrees F for 25 to 30 minutes until golden brown.
Freezer to fryer - Fry in deep fat fryer at 350 degrees until golden brown.
---