Marble pound cake
Tell a Friend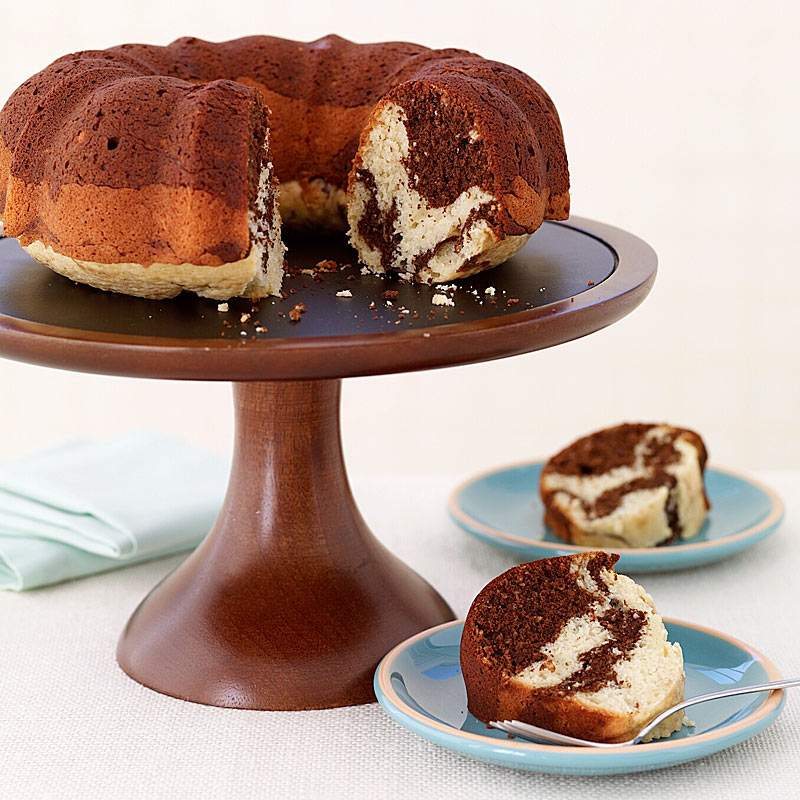 Brief Description

Unlike traditional pound cake, this marbled version does not use the usual pound of butter, but it's so buttery-rich tasting you won't believe you're eating something this light. Incorporating yogurt into the batter not only keeps the finished cake moist, but it also adds a tang, giving it a wonderful old-fashioned flavor. Folding beaten egg whites into the batter helps lighten the texture. Beat the egg whites until stiff peaks form, which means when you turn the whisk upside down, the peaks should hold straight up without collapsing. Bittersweet chocolate is ideal in baked good where you want the chocolate to be the star, as in this dessert.

Main Ingredient

Chocolate

Recipe Type: Public

Tags:

Notes:
Ingredients:
- cooking spray
2 1/4 cups - All Purpose Flour
1/4 teaspoons - table salt
1 teaspoons - baking powder
1/2 teaspoons - baking soda
8 tablespoons - Regular butter softened
3/4 cups - Sugar
1 teaspoons - vanilla extract
1 - large egg
8 ounces - whole milk plain yogurt or vanilla flavor
4 - large egg whites
3 ounces - Bittersweet chocolate
1/2 teaspoons - Almond extract
Directions:
Preheat oven to 350ºF. Coat a bundt pan with cooking spray.
In a large bowl, sift together flour, salt, baking powder and baking soda; set aside.
In another large bowl, use an electric mixer to cream butter and sugar until light and fluffy. Add vanilla and egg; beat until well combined.
Add about 1/3 of flour mixture and 1/3 of yogurt to sugar mixture; fold in until just blended. Repeat until all flour and yogurt are incorporated.
In a medium bowl, whip egg whites until stiff by not dry; fold egg whites into batter until blended. Divide batter into 2 bowls.
Melt chocolate over a double boiler or in a saucepan over extremely low heat. When chocolate is just melted, pour into one bowl of batter; blend well. Add almond extract to other bowl of batter; blend well.
Pour half of chocolate batter and then half of vanilla batter into prepared pan; repeat with remaining batter. Take a knife and run it through cake batter to create even more swirls.
Bake cake until a toothpick inserted in center comes out clean, about 45 to 50 minutes. Remove cake from oven; cool until bottom of pan is just warm to the touch. Carefully flip pan over and ease cake out of pan onto a wire rack; cool completely. Slice into 14 pieces and serve.
---