Light Fruitcake--Groom's Cake
Tell a Friend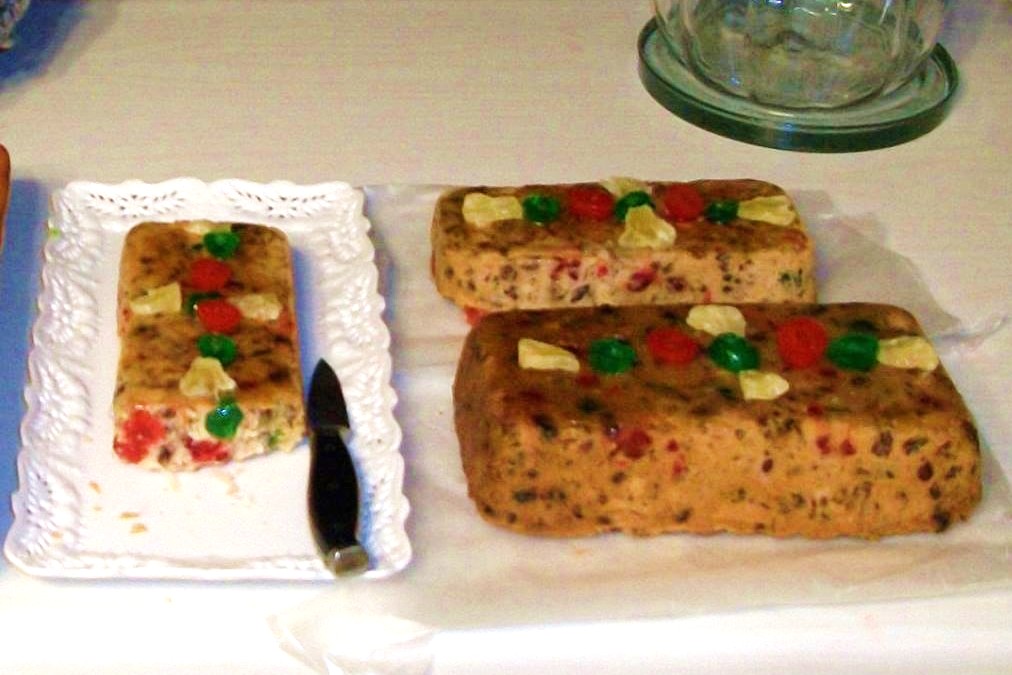 Ingredients:
4 cups - mixed fruits and peels diced (1.75 pounds)
1/2 cups - pitted dates cut up
1/2 cups - dried apricots cut up
1/2 cups - dried figs cut up
1 1/4 cups - light seedless raisins 8 ounces
2 cups - blanched almonds slivered--8 ounces
2 cups - coconut flaked
2 cups - all-purpose flour sifted
1 1/2 teaspoons - baking powder
1 teaspoons - salt
1 cups - shortening
1 cups - sugar
1 teaspoons - rum flavoring
5 - eggs
1/2 cups - pineapple juice unsweetened
Directions:
Mix fruits and peels, dates, apricots, figs, raisins, almonds, and coconut. Sift together flour, baking powder, and salt; sprinkle 1/2 cup over fruit mixture, mixing well. Thoroughly cream shortening, sugar, and flavoring; beat in eggs, one at a time.
Add dry ingredients to creamed mixture alternately with pineapple juice, beating well after each addition. Add fruit mixture, stirring until well mixed.
Line two 8 1/2 X 4 1/2 X 2 1/2 inch loaf pans* with paper, allowing 1/2 inch to extend above all sides. Pour batter into pans, filling 2/3 full. Bake in very slow oven (275°) 2 1/2 hours, or till cakes are done. (Have a pan of water on bottom shelf of oven while baking.) Cool in pans. Makes about 5 pounds.
If desired, glaze cooled cakes by brushing lightly with hot corn syrup. Trim tops with candied cherries, other candied fruits, and blanched almonds.
*Or line bottom and sides of a 10-inch tube pan with paper; pour in batter. Bake in very slow oven (275°) 2 1/2 hours or till toothpick inserted in cake comes out clean.
This cake also may be baked in graduated sizes of round layer pans for a Groom's Cake. (Fill pans 3/4 full of batter.)
Fruitcake Pointers:
* Cool fruitcakes in pans, then turn out.
* Store Fruitcakes in aluminum foil, saran wrapping, or airtight container. Keep in a cool place.
* Store fruitcakes at least a week before eating--flavors will blend, become mellow.
* Chill before slicing--easier to cut thin, perfect slices.
* Make fruitcakes for the holidays 3 or 4 weeks ahead. Then they'll be at their best.
---