KuKu Sabzi (Herbs & Walnut Omelet)
Tell a Friend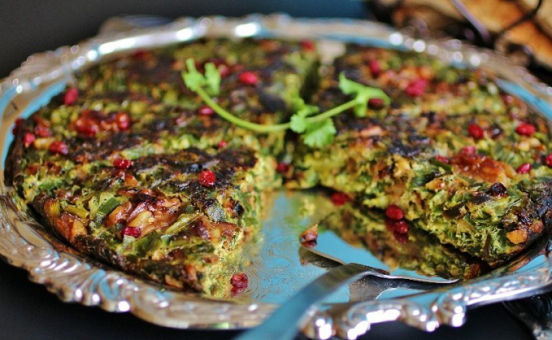 Brief Description

This is a classic gluten free Persian dish is both healthy and delicious. The flavors are robust yet light. If you can locate Barberries its well worth the effort to include it as it provides a wonderfully tart addition to the dish. The recipe below works from the traditionally included herbs in the Persian dish but really you can mix and match with any herbs you have in your refrigerator. This dish works well served with a salad or a side of roasted potatoes—or as a sandwich (with a little dijon mustard or fig jam!)

Main Ingredient

Category: Eggs

Recipe Type: Public

Source:

Tags:

Notes:

Posted By: ISC
Ingredients:
1 cups - Chives, finely chopped
1 cups - Cilantro, finely chopped
1 cups - Parsley, finely chopped
1 cups - Dill, finely chopped
1/2 cups - Toasted Parwan Walnuts by Ziba, coarsely chopped
1/4 cups - Barberries (Zaresh), chopped finely Substitute dried cranberries or sour cherries, chopped finely
1 teaspoons - Sea Salt
1/4 cups - Olive Oil
1/4 teaspoons - Powdered Turmeric Optional
6 - Eggs
2 tablespoons - Canola Oil
3 - Scallions, chopped
Directions:
Step 1
In a large bowl, place the chives, cilantro, parsley, dill, walnuts, barberries, salt, olive oil turmeric. Mix well.
Sep 2
In a separate bowl beat your eggs. Add the beaten eggs to the bowl of chopped greens and mix well.
Step 3
In a large skillet, saute the canola oil and chopped scallions until well cooked over a medium flame.
Step 4
Add the greens/egg mixture to the skillet. Spread evenly in the skillet. Reduce heat to low and cover for 5 minutes.
Step 5
Remove cover and using a soft spatula cut the omelet into 4 quarters. This will make it easier to turn over and cook the other side. Gently, lift each of the 4 quarters one by one and "flip" it over to the other side.
Step 6
Let cook for another few minutes on the other side covered.
Step 7
Remove from heat and serve!
---