Steven's Kiwi Party Pineapple and Cheese Picks
Tell a Friend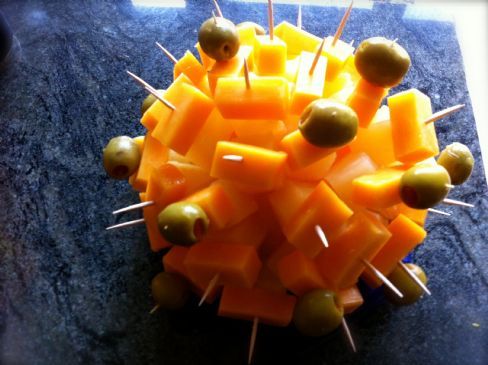 Brief Description

Toothpicks of cheese and pineapple displayed in a half piece of fruit.

Main Ingredient

pineapple

Recipe Type: Public

Source:

Notes:

*Using colored toothpicks is okay, but the coloring may or may not bleed onto the food. *You could get creative and substitute other fruits instead of pineapple (such as kiwi fruit or blueberries) but the pineapple compliments cheese the best in my opinion. *Using sharp cheddar cheese is awesome, as is pepper jack cheese and even string cheese. *Adding pitted olives to a few picks makes it appear "fancier" and is also tasty. *It could pair nicely with a greek yogurt-based fruit dip on the side.
Ingredients:
1 cups - cubed cheese any variety that will not crumble
1 cups - cubed pineapple sweet or unsweet, drained
1 - grapefruit or large orange
- toothpicks
Directions:
1. Slice off the bottom of the grapefruit or large orange so it will sit still on your serving plate.
2. Cube pineapple and cheese if not already cubed, each piece should be approximately 1" x 1".
3. Slide 1 piece of pineapple and 1 piece of cheese on to toothpicks.
4. Stick the toothpicks into the grapefruit or large orange, and it is easiest if you start at the bottom and work upward.
5. IF you have time, cover with plastic wrap and chill in refrigerator prior to serving.
---