Keto Honey Wheat Style Bread
Tell a Friend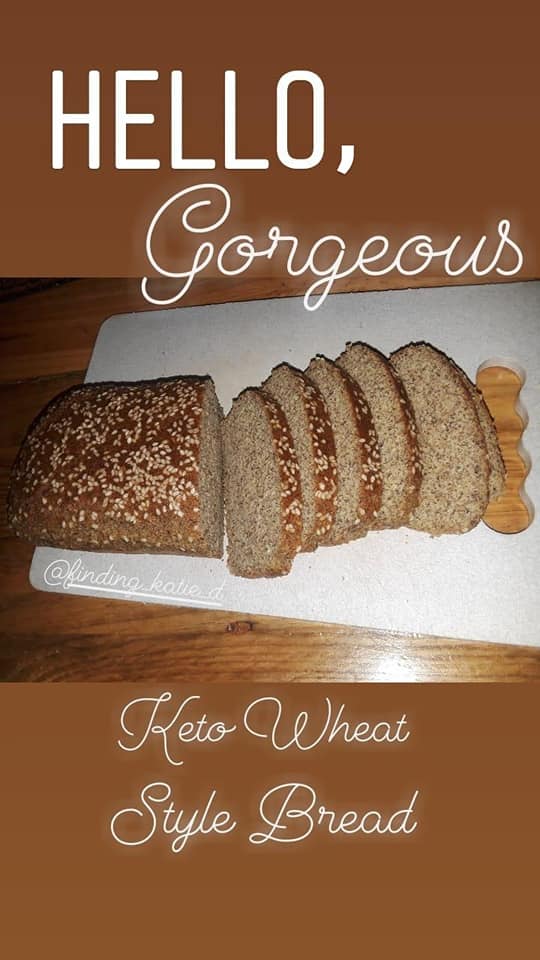 Brief Description

Keto/Low Carb Bread that tastes like a dense honey wheat bread that is not \\\\\\\\\\\\\\\\\\\\\\\\\\\\\\\\\\\\\\\\\\\\\\\\\\\\\\\\\\\\\\\\\\\\\\\\\\\\\\\\\\\\\\\\\\\\\\\\\\\\\\\\\\\\\\\\\\\\\\\\\\\\\\\\\\\\\\\\\\\\\\\\\\\\\\\\\\\\\\\\\\\\\\\\\\\\\\\\\\\\\\\\\\\\\\\\\\\\\\\\\\\\\\\\\\\\\\\\\\\\\\\\\\\\\\\\\\\\\\\\\\\\\\\\\\\\\\\"eggy\\\\\\\\\\\\\\\\\\\\\\\\\\\\\\\\\\\\\\\\\\\\\\\\\\\\\\\\\\\\\\\\\\\\\\\\\\\\\\\\\\\\\\\\\\\\\\\\\\\\\\\\\\\\\\\\\\\\\\\\\\\\\\\\\\\\\\\\\\\\\\\\\\\\\\\\\\\\\\\\\\\\\\\\\\\\\\\\\\\\\\\\\\\\\\\\\\\\\\\\\\\\\\\\\\\\\\\\\\\\\\\\\\\\\\\\\\\\\\\\\\\\\\\\\\\\\\\" and toasts up well.

Main Ingredient

Almond Flour, Flax and Psyllium Husk

Recipe Type: Public

Source:

Tags:

Notes:

With my specific brand of ingredients and slicing the bread into 14 slices, the macros are: Per slice 84 cals, 3.5g Total Carbs, 2.5g Fiber, 0.4g sugar alcohol, 0.6g Net Carbs, 6.4g Fat, 3.1g Protein
Ingredients:
1/2 cups - Almond Flour
1/3 cups - Ground Flax Seed
1/4 cups - Whole Psyllium Husks (not ground)
1/2 teaspoons - Cinnamon
1/2 teaspoons - Pink Salt
2 1/2 teaspoons - Aluminum Free Baking Powder
1/2 tablespoons - Swerve sweetener- granular or similar sugar substitute
1/4 cups - Water
2 tablespoons - Olive Oil
4 - Eggs Large
1 1/2 tablespoons - Apple Cider Vinegar
2 tablespoons - Sesame seeds or Everything Bagel Seasoning -optional
2 1/2 tablespoons - Hemp hearts
1/4 teaspoons - Baking soda
Directions:
PREHEAT Oven to 350 degrees Fahrenheit - Adjust rack to center of the oven if needed.
Line a bread loaf pan with parchment paper (not wax paper) and set aside. I also spray my parchment with Olive Oil spray but you don't have to.
Add all dry ingredients to a large bowl EXCEPT "optional" sesame seeds or everything bagel seasonings. Mix until fully incorporated. In another bowl, mix together all wet ingredients. Add your dry ingredients to the wet and blend well with a whisk until smooth. scrape down sides and blend again. Pour batter into prepared loaf pan. Sprinkle the top with your seeds/seasonings. Bake on center rack in oven for 50 minutes. Remove from oven, let cool in pan for 20 minutes. After 20 minutes, remove from pan by lifting the parchment out of the pan, to a cooling rack. Allow to cool completely before slicing. Slicing the while bread is still warm may result in a "gummy/wet" texture.
Loaf makes 14-16slices.
---