Kabocha Bread Pudding
Tell a Friend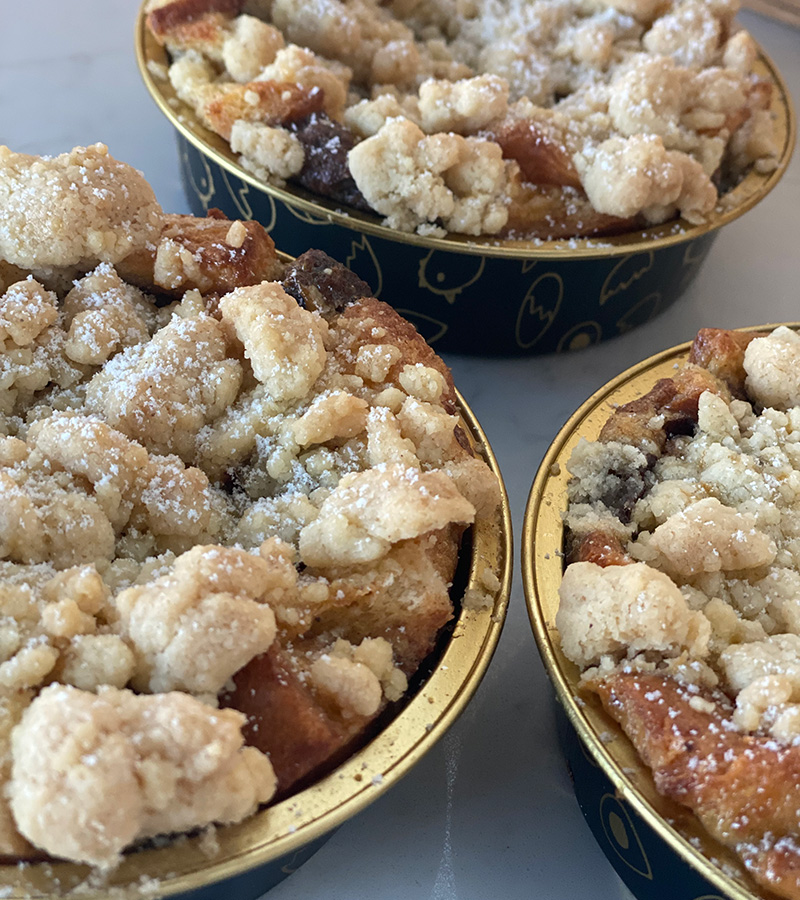 Brief Description

use lower heat for a long time to bake about 1.5 hours for even and silky custard. When It is baked, let the oven off, leave it in the oven until you serve. Keep it warm and let the guest sense aroma!! It is the perfect party dessert! It serves about 10-12 people. Serve warm! Use a spoon or spatula to scoop it to serve on the plate with a scoop of vanilla ice cream!!

Main Ingredient

Recipe Type: Public

Source:

Notes:
Ingredients:
500 grams - Half & Half
155 grams - Granulated Sugar
6 whole - Egg Yolks (120g)
2 whole - Whole Eggs (100g)
2 tablespoons - Mayer's rum
1/2 teaspoons - Vanilla Extract
1 tablespoons - Pumpkin Spice
500 grams - Roasted Kaboccha
250 grams - Bread
40 grams - Dried Cranberry
60 grams - Unsalted Butter
30 grams - Sugar
15 grams - Brown Sugar
1/8 teaspoons - Salt
1/4 teaspoons - Pumpkin Spice
100 grams - Flour
Directions:
1. Roast Kabocha in the oven. Wash, cut, take out seeds. Cover with foil. 400F for about 45 min -1 hour. When Kabocha is cool enough to touch, peel the rind.
2. Making the Custard mix (half & half) but adding all ingredients into Vitamix and blend.
3. Lay out bread and Cranberry, and let it soak with the mixture. Wrap and rest it in the refrigerator.
4. Making the streusel. Mix all ingredients except for flour. Creaming method is incorporating air by grinding mixing sugar into butter.
Additional Note: WHEN THE MIXTURE GET A BIT FLUFFY, THE COLOR GET A BIT WHITER SINCE AIR IS INCORPORATED.
5. Then fold the flour just and mix until you won't see the flour. Let it rest in the refrigerator plastic wrapped.
Additional Note: MIXING THE FLOUR, IT SHOULD LOOK CRUMBLY.
6. Take out the dish made about 30min to 1hour ahead to bring the temperature close to room temp. This will make evenly baked. Top with streusel and sliced Kabocha (egg washed), then bake.
---