Jack's Stew or Roast
Tell a Friend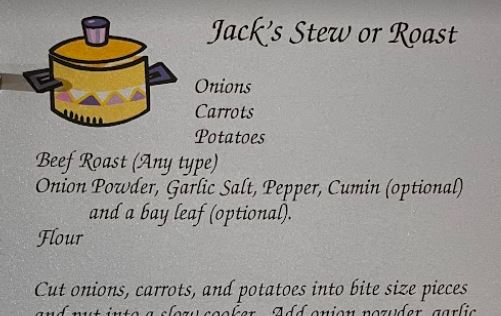 Brief Description

Beef roast with onions, carrots and potatoes.

Main Ingredient

beef roast

Category: Beef

Recipe Type: Public

Source:

Tags:

Notes:
Ingredients:
- onions
- carrots
- potatoes
1 - beef roast (any type
- onion powder
- garlic salt
- pepper
- cumin optional
- bay leaf optional
- flour
Directions:
Cut onions, carrots and potatoes into bite-size pieces and put into a slow cooker. Add onion powder, garlic salt and pepper (and optional spices) to taste. Cover with water, bouillon or broth and cook on LOW.
The meat can be added 2-3 hours later. Trim fat, cut into bite-size pieces and brown in a hot pan with a little oil spray. Add to slow cooker and cook until done - a total of six to 10 hours depending upon temperature and amount.
To thicken: blend a small amount of flour and cold water and add to stew. Season to taste and serve.
Hint:
Vegetables take longer than meat to cook. If you want to add everything at one time, make sure that vegetables are cut smaller than meat pieces or just cook the meat as a roast.
---