Hummus
Tell a Friend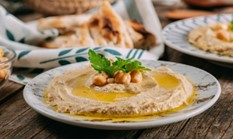 Brief Description

Roasted garlic and peppers blended with chickpeas and seasonings to make fresh hummus.

Main Ingredient

chick peas

Recipe Type: Public

Source:

Tags:

Notes:
Ingredients:
1 cans - chick peas drained
1 - red, yellow or orange pepper
1 - whole garlic head
2 tablespoons - tahini paste
- zest from one lemon (zest the lemon and then squeeze the juice)
- juice from one lemon
2 tablespoons - Louisiana hot sauce
- salt to taste (about 1/2 tsp.)
- fresh ground pepper to taste
2 tablespoons - olive oil
- about 2 tablespoons water
Directions:
Cut the head off a garlic, sprinkle a pinch of salt and a pinch of sugar on the exposed surface. Add a few drips of olive oil. Wrap in foil and roast in a 450 degree F oven for 40 minutes. Cool, and remove individual cloves of garlic.
Quarter a red, yellow or orange sweet pepper. Remove the seeds and crud. Sprinkle with some fresh-ground pepper and salt. Drizzle some olive oil on it, and wrap it in foil. Roast in a 450 degree F oven for 40 min. Cool. Keep the juices with the roasted pepper.
In a food processor, blend until well mixed:
can of drained chick peas
roasted pepper and garlic
tahini paste
lemon juice and zest
Louisiana hot sauce
olive oil
salt and pepper
Check for salt and heat, and adjust with salt and Louisiana hot sauce, to taste.
Check for consistency and adjust with water.
Serve with pita bread.
Notes:
It tastes better on day 2, and stores for about two weeks in the fridge.
I like to make toasted pita crackers. Use medium pocket pitas, warm slightly to separate sides and cut into about eight wedges with a pizza cutter. Places wedges on a baking sheet and spray lightly with olive oil. Sprinkle lightly with garlic salt and grated parmesan cheese and then toast in oven at about 300F. Watch toasting carefully and remove when crisp but not yet browned. Crisps can be made in advance too and kept in an airtight container.
Enjoy!
---