Homemade Pretzel Rolls
Tell a Friend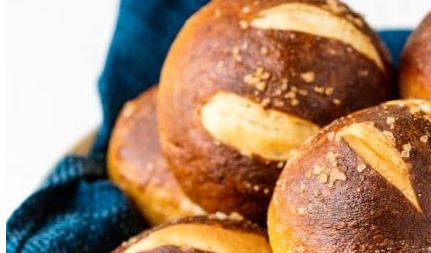 Ingredients:
1 tablespoons - brown sugar
2 teaspoons - instant dry yeast
1 teaspoons - salt
2 tablespoons - softened butter
1 3/4 cups - warm milk
4 1/2 cups - all-purpose flour
1/2 cups - baking soda
1 - egg white lightly beaten
- coarse salt
Directions:
In the bowl of a stand mixer, combine brown sugar, yeast, salt and butter. Pour warm milk and 4 cups of the flour into the bowl. Knead on low speed until well combined; increase speed to medium and add more flour as needed until dough pulls away from sides of bowl. The dough should still be tacky, but able to form its own dough ball.
Cover and let rise 1 hour.
Divide dough into 12 balls and shape into rolls; let rest 15 minutes.
Line a baking sheet with parchment paper and spray with nonstick spray. Preheat oven to 425° F.
Bring a large saucepan of water to a boil. Add baking soda.
Working in batches of 2-3 rolls at a time, use a slotted spoon to transfer the rolls into the boiling water. Boil for 1 minute, flip over and boil for 30 to 60 seconds more. Use slotted spoon to remove rolls from water and place on prepared baking sheet, allowing at least 1 inch of space between each roll.
Use a sharp knife to slice two parallel lines in top of each roll. Brush with egg white. Sprinkle with coarse salt.
Bake in preheated oven for about 20 minutes or until rolls are a deep golden brown.
---